Rocket Girls is a free day camp that will be offered this summer by West Virginia State University's Center for the Advancement of Science, Technology, Engineering and Mathematics.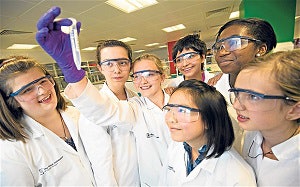 The camp will run July 29 through Aug. 2 at WVSU's Institute campus and will provide girls ages 12 to 17 with information and hands-on instruction geared toward increasing girls' exploration of science careers.
Women, Black, Hispanic and Native American workers are underrepresented in STEM fields, and numerous initiatives have been created in recent years to erase the disparities.
"Studies have shown that women tend to leave math-heavy STEM fields much faster than their male counterparts," said Emma Gardner, STEM educator at WVSU, a historically Black university.
"The young ladies participating in Rocket Girls will have the opportunity to engineer and launch their own model rockets," added Gardner, who will lead camp sessions.
The Massachusetts Institute of Technology created the camp's curriculum, which will teach participants the math and science behind rocketry through participation in hands-on science experiments at the Aerospace Education Laboratory. The camp is 9 a.m. to 2 p.m. each day.
Advance registration is required and space is limited. For more information or to register, visit wvstateu.edu/summer.