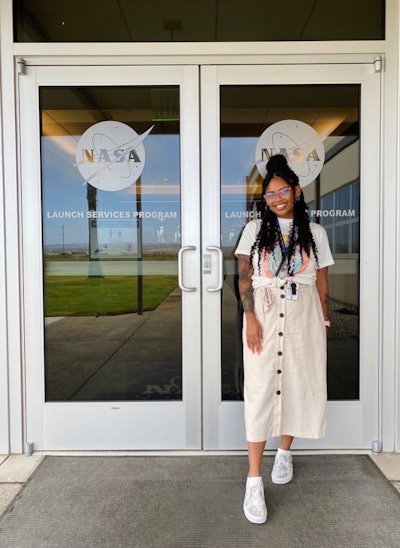 Kayla Dio Robinson has been fascinated by space for as long as she can remember. She received her first telescope from her father when she was ten. In the years since, her teachers and professors helped turn that fascination into a budding career.
Robinson is now a mission telemetry engineer at Kennedy Space Center, working with NASA and its customers to ensure successful communications during missions. While she credits many mentors for help on her journey, Robinson became an engineer under the dual pressures of being a Black woman in a mostly white, male space.
Thursday, Feb. 24 is Introduce a Girl to Engineering Day, a call for institutions to bring more women and more diversity, into the field of sciences, technology, engineering, and mathematics (STEM). According to data gathered by the National Center for Education Statistics, women make up 20% of awarded undergraduate engineering degrees. That number has stagnated, staying within two percentage points since 1999. The field is also a white-dominated space, with 66% of engineers in the workforce identifying as white, according to Georgetown University's Center on Education and the Workforce.
For scholars who study the methodology behind teaching engineering, bringing more women and diversity into the workforce requires not just a shift in recruitment and marketing but a cultural change as well.
Dr. Joachim Walther, founding director of the Engineering Education Transformations Institute (EETI) at the University of Georgia, teaches a course called Engineered Systems in Society. The course is required for all mechanical engineering majors and asks students to role-play in imaginary, real-world situations.
"There's a necessity to reshape engineering as a profession in the world," said Walther. "At the heart of [it], engineering is a social, technical endeavor that is inherently humanistic and has to do with working with people in ways that acknowledge other sources of knowledge."
Students often come to engineering to "save the world," said Walther. His class allows them to encounter engineering as it intersects with society, offering students "revelations" even after they graduate.
"The idea that engineers are at the top, and people are the constraint, is a gendered, masculine way of thinking. If we shifted or transitioned engineering to do justice to the problems we face as a society, it would automatically attract broader groups," said Walther. "The assumption that engineering is a male discipline is not universal. In other developed countries, gender breakdown is more half and half."
Dr. Monica Cox, a distinguished professor of engineering at The Ohio State University, said that engineering pedagogies must change to meet students where they are, which might mean teachers that teachers will need to think outside of the box.
She pulled up the Instagram account for BcG. Magazine. It's one of the social media accounts she follows that help her brainstorm new ideas to introduce a different type of history with her students. The post she shared was about Charles Baker, a Black man born into slavery, who became a self-taught mechanical engineer who patented the first friction heater and patented it in 1903.
"He wasn't at a university. This man somehow had the knowledge and access to not just create something, but to patent it. For a Black man to own that, and make money off of it, that's what you bring into a classroom. You have to look for something like that, it's not in the textbook. You have to go and find that information," said Cox. "You have to be deliberate about inclusion."
Cox attended Spelman College, an all-women's Black institution in Atlanta. The mentorship and support she received at Spelman helped her to believe in herself.
"It feels good to be the rule and not the exception. And so often, your gender, race, or whatever, will make you seem like you're the exception," said Cox.
Robinson knows what it feels like to go from being one of the few women, and one of the few people of color, within her degree to being surrounded by like faces and experiences. She spent the first two years of college attending Tidewater Community College in Virginia, where she earned her associate degree in computer science. She then she transferred to Norfolk State University, an HBCU.
"Things were completely different when I transferred there. I was definitely a lot more at home," said Robinson, of her time at Norfolk State. "What really helped me there was the sisterhood that I could get in that class and my friend group."
Robinson and Cox both said that social media has been tremendously helpful in allowing them to not only learn about new opportunities, but connect with other Black, women engineers. That networking and support is crucial to their success and the ability to keep reaching new minds and bringing more diversity into the world of engineering.
Liann Herder can be reached at lherder@diverseeducation.com.