Marquette University has received two grants to support its Education Preparedness Program (EPP), which seeks to help incarcerated students.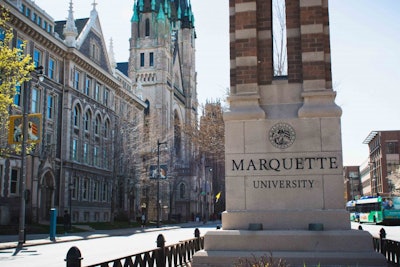 The grants – which includes $750,000 from the U.S. Department of Education (ED) – are for the school's Center for Urban Research, Teaching, and Outreach (CURTO), which houses the EPP. The EPP's goal is to provide educational opportunities and support services to formerly and currently incarcerated populations, expanding higher ed as a whole.
"Formerly incarcerated students face significant barriers to educational opportunities, namely the challenges of reentry while pursuing a college education," said Dr. Darren Wheelock, associate professor of social and cultural sciences and principal investigator on the ED award. "When EPP began, the primary goal of the program was to offer free classes to system-impacted students and connect those students with local reentry wrap-around support when they were released from a correctional institution. What these awards represent are opportunities—opportunities though expand offerings and, for three students, to take that next life-changing step in their education journey."
The money will go towards helping fund additional staff, expansion plans, and program evaluation efforts for EPP.
The program also received an award from the Wheaton Franciscan Sisters Ministry Fund to support three current program students to transition into a degree program and pursue bachelor's degrees at Marquette next year.