The University of Virginia (UVA) will rework its legacy admissions policy, The Washington Post reported.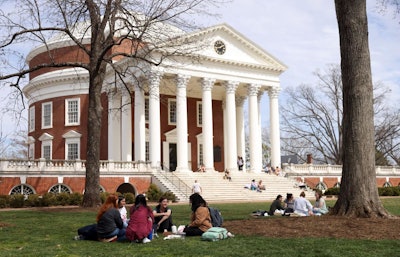 An applicant's familial ties to alumni will no longer be conveyed to admission officers in a direct "checkbox" way, UVA officials said. Instead, they will be able to write about a "personal or historic connection" with the school and how that influenced them.
Legacy admissions have drawn more criticism as of late after the Supreme Court's decision to strike down Affirmative Action left legacy preferences standing.
Concerns over maintaining racial diversity without race-based admissions rose. And legacy admission preferences too often help white and wealthy applicants, critics said.
UVA asks students through the Common Application to discuss their backgrounds, perspectives, or experiences that would be a "source of strength," which could evoke answers involving characteristics such as race, ethnicity, upbringing, or gender.
The school is also asking a new, optional question now.
"If you have a personal or historic connection with UVA, and if you'd like to share how your experience of this connection has prepared you to contribute to the University, please share your thoughts here. Such relationships might include, but are not limited to, being a child of someone who graduated from or works for UVA, a descendant of ancestors who labored at UVA, or a participant in UVA programs."
UVA President James E. Ryan and Provost Dr. Ian Baucom explained the reasoning behind the prompt in a statement Tuesday.
"We hope this prompt will give all students — not only, for example, the children of our graduates, but also the descendants of ancestors who labored at the University, as well as those with other relationships — the chance to tell their unique stories," Ryan and Baucom explained. "No one who assesses candidates for admission at UVA will have access to any self-disclosed 'checkbox' information regarding the personal or historic relations to UVA of the candidates they are considering.
"We believe this approach is consistent with our efforts to treat all our candidates as individuals, in light of their capacity to advance our mission, and in the fullness of their humanity."