A group of CEOs are demanding Harvard University identify students whose organizations signed on to a letter blaming solely Israel for the deadly attacks by terrorist organization Hamas, CNN reported.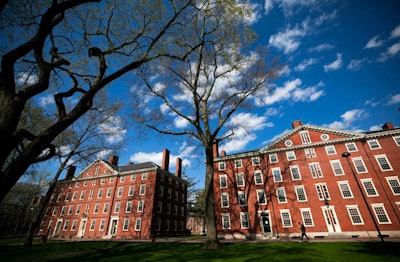 The business leaders – among them, billionaire hedge fund CEO Bill Ackman – want the names so they can blacklist the individuals from being hired. Others involved in this pursuit are the CEOs of Pershing Square Capital Management, shopping club FabFitFun, health tech startup EasyHealth, Dovehill Capital Management, and restaurant chain Sweetgreen.
"One should not be able to hide behind a corporate shield when issuing statements supporting the actions of terrorists," Ackman said in a social media post.
Sweetgreen CEO Jonathan Neman said: "I would like to know so I know never to hire these people."
This demand comes after the release of a joint statement from the Harvard Palestine Solidarity Groups – a coalition of Harvard student groups – following the Hamas attacks that have killed more than 1,000 Israelis and at least 14 American citizens.
"We, the undersigned student organizations, hold the Israeli regime entirely responsible for all unfolding violence," the statement said, adding that millions of Palestinians have been "forced to live in an open-air prison" and calling on Harvard to "take action."
Some of the groups involved – at least five of the original 34 signatories – have since withdrawn their endorsements after the criticism. Students have cited reasons such as miscommunication, lack of due diligence, lack of decision-making power, and not being aware of the letter's content.
In response to the CEOs' demand, some people have argued for caution, warning that naming the students could endanger them and did not account for differences of opinion within the student groups.
One such warning comes from economist Larry Summers, former president of Harvard and US Treasury Secretary, who was the one who drew attention to the "morally unconscionable" student statement. He said some of the students were probably "naïve and foolish."
"I yield to no one in my revulsion at the statement apparently made on behalf of 30 plus @Harcard student group," Summers said on social media Wednesday. "But please everybody take a deep breath. Many in these groups never saw the statement before it went out. In some cases those approving did not understand exactly what they were approving."
Harvard professor and legal scholar Laurence Tribe expressed similar wariness for the CEOs' demand.
"Any number of the students who got caught up in this misguided campaign probably didn't even know there was a statement. Others no doubt didn't focus on, much less understand, what they were signing," Tribe said in an email. "Naive and stupid as they may have been, I now think it would be an overreaction to penalize them permanently by publishing their names and implying that they actually endorsed what the terrorists did to innocent Israelis."
No student group speaks for Harvard or its leadership, Harvard President Dr. Claudine Gay said in a statement Tuesday.