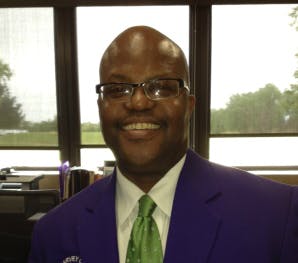 If there is one overarching theme that emerges from my first year as president of Olive-Harvey College (OHC), one of the City Colleges of Chicago, it is that culture matters.
Defined as the manifestation of behavior that is a result of traditions, customs, values, morals, ethics, principles, practices and informal communication, culture shapes how people respond to change. And in my previous role as executive vice president at Cuyahoga Community College in Cleveland, Ohio, I was told "culture eats strategy for lunch every day." This truism has guided my approach throughout my first year as president of  Olive-Harvey College.
When I arrived on the far south side campus in July 2011, I was committed to learning Olive-Harvey's culture, its challenges and opportunities for improvement. Most importantly, I was focused on getting to know students, faculty, staff and their families. I walked the halls, attended on- and off-campus events and met with area businesses and community organizations to learn what mattered most to people and how best to address their hopes, needs and concerns.
A critical learning experience that emerged from those early days was that first impressions matter. So, we invested in several capital improvement projects across the college. We created more appealing student spaces, classrooms and other areas, including a complete renovation and upgrade of science labs, a parking lot relocation/expansion project and painting projects at the main campus and South Chicago Learning Center campus.
After spending those first few months getting to know the college's stakeholders, the City of Chicago launched College to Careers, an initiative to align college curricula with the needs of today's in-demand industries. The initiative partners businesses directly with City Colleges' faculty and staff to revamp courses, design new facilities, provide internships and give students interview opportunities in fast-growing fields.
Located near a number of Chicago-area industrial and intermodal transportation corridors, Olive-Harvey College is the hub for transportation, distribution and logistics (TDL) programs, while Malcolm X College — located in the Illinois Medical District — is the central campus for healthcare.
With 110,000 new jobs in TDL fields expected in the Chicago region over the next 10 years, OHC offers a number of TDL programs, including commercial driver's license, public chauffeur training institute, supply chain management and forklift operator certificate programs.
To ensure that our programs prepare students for these career opportunities, we have partnered with key players in the sector, including Coyote Logistics, UPS, Centerpoint, Canadian National Railway, Union Pacific, AAR Corporation, BNSF, Schneider Finance Inc. and United Airlines. In March, City Colleges Chancellor Cheryl Hyman, Chicago Mayor Rahm Emanuel and Illinois Governor Pat Quinn announced the construction of a TDL center at Olive-Harvey College, the first comprehensive TDL education center in the state.
In addition to the successful launch of College to Careers, I am proud to report a number of other accomplishments that our community of students, faculty and staff has achieved:
When City Colleges held its annual commencement ceremony in May, it granted nearly 3,300 associate degrees, up 32 percent from 2011.
City Colleges' graduation rate now stands at 10 percent, the highest in a decade. While we are not satisfied with that rate, it shows the progress we are making toward improving student outcomes and opportunities.
OHC was awarded grants totaling $3 million to serve students in STEM fields (science, technology, engineering and mathematics), preparing teachers to improve student learning.
In Fall 2011, I led the creation of a minority male mentoring program, Men of Distinction (MOD), to increase the number of minority male graduates by providing increased student services, academic support, service learning and community service projects and mentoring. The inaugural group of young men achieved an average GPA increase of 1.27 points, and three had 4.0 GPAs, including Olive-Harvey's 2012 valedictorian Dwight Dawson, an Iraq war veteran.
Since the Wellness Center opened in late December 2010, more than 1,400 clients have used the services, including counseling, diagnostic testing, workshops, HIV screening and other health and blood screenings.
Olive Harvey Middle College — a charter high school located on the OHC campus — graduated 35 students with 19 receiving college credit and 12 earning workforce certificates. Fifty-eight percent earned a GPA of 3.0 or greater, including four students who earned 4.0 GPAs.
In fiscal year 2012, 500 students participated in OHC's Graduation Boot Camp, designed to motivate, encourage and push students with 25 credit hours or more.
The Adult and Continuing Education Division of the college launched ACE Space, a student service center offering a variety of services to support the transition of GED/ESL students to college-level courses. ACE Space served approximately 1,800 students in its first year.
I am proud to lead an outstanding campus focused on providing our students with academic credentials of economic value that prepare them for the career opportunities of today and tomorrow. I look forward to building on our successes in the year ahead.
Craig T. Fallon is president of Olive-Harvey College