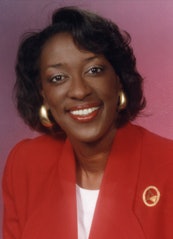 MONTGOMERY, Ala. ― Gwendolyn Boyd went from a Montgomery housing project as a girl to a career with a leadership position at Johns Hopkins University. Now she's returning home to try to end a year of turmoil at Alabama State University by becoming its president.
The trustees of Alabama State, headed by Gov. Robert Bentley, voted 11-0 Friday to hire Boyd over retired Brig. Gen. Samuel Nichols of Virginia and Democratic state Sen. Quinton Ross of Montgomery.
"It feels wonderful. This is a defining moment for Alabama State," the university's first female president said in an interview.
Boyd, 58, grew up on the poor side of Montgomery, became one of the first Black students to integrate Montgomery's Jefferson Davis High School, and then earned a scholarship to Alabama State, where she got a bachelor's degree in math. She got her master's degree in mechanical engineering from Yale University and her doctorate in divinity from Howard University. She is currently executive assistant to the chief of staff of the Applied Physics Lab at Johns Hopkins in Maryland.
Trustee Chairman Elton Dean said Boyd stood out because she has roots at the university, but she went elsewhere to achieve recognition before seeking to return home. He said Boyd has the contacts to help the university increase its donations.
"She's got a national reputation. We are fortunate to have a person of that character," he said.
A survey by the student government association found that she was the overwhelming favorite among students.
She replaces Joseph Silver, who parted ways with the university a year ago after questioning some contracts. Boyd called the controversy "a blip on the radar."
As president, Boyd said her priority is to bring stability to the 6,000-student university. "Nobody is going to invest in you if they don't see stability," she told the trustees.
She said her goals include reinvigorating the alumni association, adding a school of engineering, and raising money to provide scholarships to existing students with good grades so they don't graduate with so much student loan debt. She said she also plans to travel to other states to recruit more students.
The university still must negotiate a contract with her. Dean said her salary wouldn't exceed Silver's $325,000 annual salary.
Her predecessor signed a $685,000 severance agreement with the university a year ago after serving three months.
His questioning of contracts prompted the governor to hire a forensic auditing firm to review the Montgomery university. Forensic Strategic Solutions is still working on its report, but its preliminary findings in October raised concerns about fraud and waste. In response, the university sued the auditing firm and had its regular auditor do a review. Interim President William Harris said it turned up no misconduct.
The governor, who is president of the trustee board by virtue of his office, said Friday he may discontinue the forensic audit because the preliminary findings have been turned over the state and federal prosecutors. "We will let the legal system do its job," he said.
Talking with Bentley after the vote, Boyd said she wants to work with the governor to assess what is right and what is wrong at the university and then fix what is wrong.
"This is a good outcome for Alabama State University," the governor said.