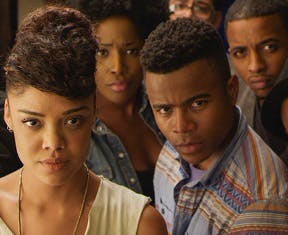 Dear White People, a first-time feature film by director Justin Simien, addresses a multitude of campus climate issues at Winchester University, a fictitious Ivy League school troubled by very real racial tension. In recent years, racial tensions have fueled conflict leading to numerous incidents at schools across the U.S. This new film, which bills itself as "a satire about being a Black face in a White place," explores the buildup of events that culminates in a campus race riot.
At the center of the film, Samantha "Sam" White (Tessa Thompson) is host of the Dear White People campus radio program, during which she offers biting and witty observations about White student behavior that she finds racially offensive and alienating. In addition to pointing out microaggressions on the radio and via the Internet, she's a budding filmmaker as a media arts major and takes special aim at White bigotry in her student film work.
Seemingly testing the power she's acquired as a radio show host, Samantha mounts a surprise electoral bid to become leader of the Armstrong-Parker House, a predominantly African-American residence hall at which she resides. She wants action to have the Winchester administration reverse a campus decision to phase in "randomized" dorm room selection for students. The measure means that Armstrong-Parker will eventually cease to be a haven for Black students, a prospect Samantha finds galling given the house with two decades of history is relatively new compared to other niche dorms in establishing a campus tradition.
It's not unexpected that Samantha becomes a target due to her fierceness as a dorm leader and savvy display of media skills. At the height of her influence, however, Samantha grows vulnerable as she's hit with a personal crisis while balancing her various roles and responsibilities. What makes this heroine particularly interesting is that she's revealed not to be all that she seems, especially to those close to her. Samantha, for example, keeps her Black friends in the dark about the affair she's having with a White teaching assistant.
In a parallel narrative, the film follows the travails of Lionel Higgins, a nerdy gay African-American student who struggles to find social acceptance at Winchester. His residence at a dorm house dominated by White male students who publish a Harvard Lampoon-like campus humor magazine suddenly ends following nasty, anti-gay treatment Lionel endures from the university president's son and the son's dorm mates.
Landing at Armstrong-Parker, Lionel contends with a wary and hostile reception from residents who suspect his motivations for working at a predominantly-White-staffed campus newspaper. Tyler James Williams, the talented actor who portrayed the young Chris Rock in the Everybody Hates Chris sitcom, plays the suffering Lionel with considerable restraint that belies the anger building inside his character. Sporting a massive Afro that symbolizes his alienation, Lionel visually and socially stands apart from other Black students, leaving viewers wondering during much of the film whether he will find acceptance among his peers.
Other characters getting meaningful screen time include Troy Fairbanks (Brandon Bell), Samantha's ex-boyfriend and the son of Winchester's student dean; Kurt Fletcher (Kyle Gallner), the university president's son who torments Lionel and plots an ill-fated ghetto fabulous theme party; and Coco Conners (Teyonah Parris), a young Black woman who covets Samantha's media popularity and allies herself with Kurt in a questionable cause. Dennis Haysbert, the deep-voiced actor television audiences have grown accustomed to as the star of numerous Allstate Insurance commercials, makes a memorable appearance as student dean Fairbanks.
Dear White People excels when its lead characters reveal themselves and allow full display of their humanity, faults and all. The director has wisely chosen to give voice not solely to the conflicted activist that Samantha represents but to Troy, Coco, and Lionel, who each struggle through his or her character conflicts. Such portrayals have broken fresh new terrain and define Simien as a vibrant new talent in American cinema. Incidentally, Dear White People netted Simien the U. S. Dramatic Special Jury Award for Breakthrough Talent at the Sundance Film Festival earlier this year.
The film opened to limited national release October 17 in selected theaters.