In an age of increased competitiveness, college students believe that an internship — even an unpaid one — is critical in helping them to achieve their first entry-level position post-graduation.
That's the findings of a new survey released by Looksharp, which owns and operates InternMatch.com, one of the largest internship and entry-level websites in the nation.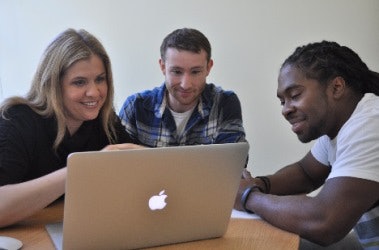 Of the 50,000 college students and recent graduates surveyed, 70.8 percent of students believe that internships should be a requirement when obtaining a college degree. The numbers are particularly high among African-American and Latino college students and recent graduates.
According to the data from the survey titled "State of College Hiring," this number dramatically increases as students move closer to their senior year and begin making plans for life after graduation.
While some college and universities require that certain majors hold internships throughout their college experience, most schools leave it it up to students to locate and apply for internship opportunities. According to the survey, 8 out of 10 students have created online career profiles to assist them in securing an internship or a job. But that alone may not be enough.
"There is a great deal of variance when it comes to the issue of internships and that is part of the problem," said Dr. Ken Parker, an education consultant who has researched the work trends of students who have graduated from college with internship experience. "If college students are encouraged to seek out opportunities to enhance their learning in the classroom, many of them will. If they are not provided guidance and direction, they often will not."
In an age of fiscal cutbacks, Parker said that career centers at universities are often the first to be downsized. "These outlets are important because they help students to prepare their résumés and they are often good at offering sound advice on how to interview for a position," said Parker. "We have to help students early in their academic career begin thinking about how to transition into the marketplace. By the time they get into their senior year, it's often too late."
According to the survey, compensation is not a top five attribute among college students when considering an internship. This is surprising, considering the increased number of college students who have taken on a job — sometimes two or three — to help pay for rising tuition costs.
About 61 percent of students say they are not upset by unpaid internships, but the survey indicated that paid internships did increase the chances of students gaining full-time employment in the long term. Students in particular majors such as engineering, computer science, accounting and finance were more likely to be paid for their internship than those in the liberal arts.
Additional findings reveal:
41 percent of 2015 students say diversity at the organization they want to work at is highly important.
54.6 percent of graduates from the class of 2014 are still unemployed or underemployed (working PT or in the services industry).
Women on average expect an internship salary $3 less than men, showing gender inequality starts early.
Student veterans are 25 percent more likely to want to work at a large multinational company than other students — likely due to the size and structure offered.
The data for the "State of College Hiring" was collected through a 52-question online survey, conducted between April 9 and 14, 2015.
Jamal Eric Watson can be reached at jwatson1@diverseeducation.com. You can follow him on Twitter @jamalericwatson.