A program at an Illinois community college is working with youth at a local juvenile justice center to help prepare them for college or a future occupation. Elgin Community College (ECC), an institution located in the suburban Chicago area, piloted two short-term college success courses with the local Kane County Juvenile Justice Center this June.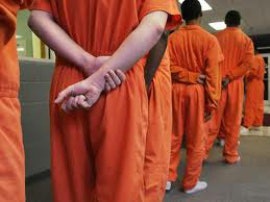 The dual-credit program was funded through a $35,000 Title I grant and is intended to inspire students for college or a career after they leave the justice center. Both classes were led by ECC instructor Darlene Harris and taught students time management and other life skills. The courses also included an exploratory careers element, including a career aptitude test and general overview of potential occupations and related career options.
"It promotes thinking about your future, and thinking about whether your want to go into a career program or a college program," said Elizabeth Roeger, dean of college transitions and developmental education at ECC. "We decided that that course could be a particularly good one for this population because it does build self-esteem, ability, and a positive mindset."
The Kane County Juvenile Justice Center admits approximately 1,200 residents a year, said Ivars Spalis, principal of the Kane County Juvenile Justice Center School, an institution housed within the Juvenile Justice Center. At any given time, typically 40 to 45 residents are at the facility, and, on average, residents stay for about 14 days.
For the juvenile justice center, the ECC partnership and college course offering were a new initiative. They were planned as part of a shift in focus in summer programming at the facility, which is now offering programs like yoga, music, and art for the first time.
"The focus at our facility is on rehabilitation and also to change the thinking of the students and broaden their horizons," Spalis said.
"Sometimes they've been told either in the home or sometimes even in the public schools that they can't do it, or things are hopeless and they're not going to make it," he added. "But if they have the positive encouragement and support that they need, sometimes it's pretty amazing what they can do."
Most Kane County Juvenile Justice Center residents are between 15 and 17 years old, although there are outliers, Spalis said, who might be anywhere from 10 to 20 years old. The average resident comes to the juvenile justice center with substantial educational deficits. Approximately half of students at the facility are three to four grade levels below where they should be in reading and thus read at a sixth grade level, Spalis said.
Students who participated in the pilot program were chosen based on the work habits and reading comprehension scores. Programming for the college readiness course was designed with the average short-term length of stay in mind. "Our population is highly transient, so we needed to make sure they were here for the duration of the course," Spalis said.
Officials from both ECC and the Kane County Juvenile Justice Center said that the course was highly successful and that they plan to offer the course in the future, provided they are able to obtain grants or funding for the program.