The company that runs the for-profit ITT Technical Institute has announced it has stopped enrolling all new students. The latest move comes a week after the federal government banned the school from enrolling students who use federal loans to pay for classes.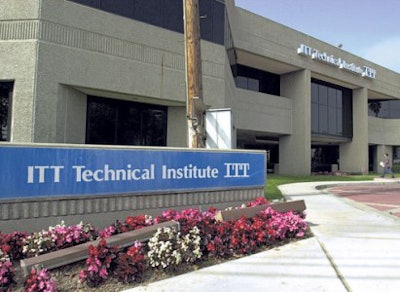 Last fall, the U.S. Department of Education said ITT would be allowed to pay federal education funds to students only after they had attended classes and had been certified as eligible by a school representative. ITT officials said at the time that they did not anticipate that move having a significant impact on its financial results or delaying aid to eligible students.
ITT Educational Services Inc. officials, based in Carmel, Ind., haven't publicly responded to the latest restriction except for a Securities and Exchange Commission filing in which the company said it was evaluating the new rules and exploring its options.
Although the majority of the institute's students receive federal aid, the college chain could've accepted new students outside of the government's Title IV program.
Trace Urdan, a Credit Suisse analyst who follows ITT, told the Indianapolis Star that the company's decision doesn't necessarily offer any clues about its next steps.
"The market for students that enroll without Title IV is essentially non-existent," Urdan said in an email. "The expense of processing applications only to have them cancel once they learn (they are) Title IV ineligible is not worthwhile."
The institute's future has been in question since the Education Department announced its sanctions amid the Obama administration's crackdown on for-profit colleges. The SEC, Consumer Financial Protection Bureau and over a dozen states are investigating ITT's financial performance, marketing, recruiting and job placement numbers. California has banned new enrollment at the company's 15 campuses there, and Wisconsin blocked enrollment at the institute's two campuses in that state.
At the end of June, there were 137 campuses across 39 states, according to the company's most recent quarterly earnings filing.
Contributing: The Associated Press