While research has established high school grades as the most reliable predictor of success in college, a new study of a large and diverse group of incoming freshman shines the light on a series of non-academic factors that also play a role.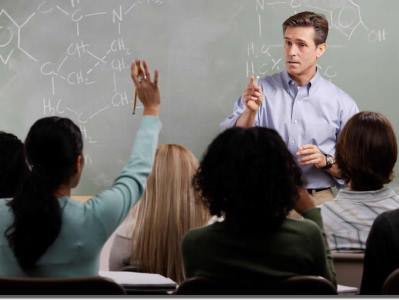 The study — released this week through the National Bureau of Economic Research — compared the characteristics of "thrivers" and "divers," that is, students in the top and bottom 10 percent, respectively, of their class in college.
Thrivers are more willing to study more hours per week to get the higher GPA they expect, are purpose-driven and express more philanthropic goals, the study found, whereas divers are more likely to cram for exam, procrastinate, and express superficial goals such as "get rich" or be "successful" in business.
Those conclusions were reached in part based on an analysis of written responses provided by students who partook in the study, conducted last fall among first-year economics students at the three campuses at the University of Toronto.
"Divers are significantly likely to use words which highlight wealth," the study states. "Thrivers, on the other hand, are more likely to highlight how they plan to contribute to society, using words such as 'human' and 'people.'"
The study — titled "Thrivers and Divers: Using Non-Academic Measures to Predict College Success" — was conducted by three economics professors. They are Graham Beattie, of the University of Pittsburgh, and Jean-William P. Laliberté and Philip Oreopoulos, both of the University of Toronto.
Although the study was conducted among 6,000 students in Canada, the researchers suggest that it has implications for how to help struggling students in the United States as well.
"Our findings speak directly to initiatives targeting at-risk students," the study states. "Importantly, the characteristics that best predict successful transitions to college are not necessarily the ones that struggling students lack."
The study comes at a time when college completion rates remain front and center of America's ongoing discussion about the best ways to help underprepared students earn their degrees.
Some colleges, for instance, are turning to analytics to help flag when students might be at risk of dropping out.
A plethora of online tools have emerged in recent years to help students rate colleges and to find the college that represents the best "match" and "fit." And various organizations have stepped forth to provide near-peer advisers to help new college students stay the course.
For instance, College Possible, a national college access organization based in Minnesota, is collaborating with colleges and universities to recruit, hire and manage near-peer AmeriCorps coaches for students from low-income backgrounds in order to help them make it to graduation, according to materials the organization provided recently to Diverse.
Along those lines, a separate study — also released this week through NBER — found that the coaching approach is making a difference, and that technology comes up short compared to the human touch. More specifically, the study — titled "Student Coaching: How Far Can Technology Go?" — found that that a program that pairs new college students with upper-year undergraduate coaches produced "large positive effects," whereas a one-time online exercise designed to affirm students' "values and goals," as well as a text messaging campaign that "provides students with academic advice, information, and motivation," had no effect.
"Coaches being proactive in contacting students was a critical feature of the program's success," the study found. "Coaches were also better able to keep an account of previously discussed issues, subsequently inquire about how those issues were being resolved, and build the required trust that made students feel comfortable enough to keep returning for help."
The study of "thrivers" and "divers" shines additional light on where the coaching programs and other initiatives — and, perhaps more importantly, the students they are meant to serve — need to focus more attention.
The bottom line is that studying and having high expectations for oneself both pay off — even more than characteristics such as conscientiousness or patience.
"The best predictors for far exceeding grade expectations are self-reported intended hours of study and expected grades," the study states. "Students who expect higher grades tend to get them, and thrivers plan to study more than three hours a week more than divers do, on average.
"Overall, our findings suggest that effort (study hours), rather than conscientiousness or patience, is the key predictor to an exceptionally successful transition to college."
Jamaal Abdul-Alim can be reached at jabdul-alim@diverseeducation.com or follow him on Twitter @dcwriter360.