Many colleges and four-year universities emphasize the fact that they are "equal opportunity" schools. However, students continue to voice the opinion that their colleges are not doing enough to address the needs of students from different ethnic, cultural, racial and religious backgrounds. During diversity-related protests, students may often point out bureaucratic flaws in higher education including statistical rates of admission for students of different ethnic backgrounds.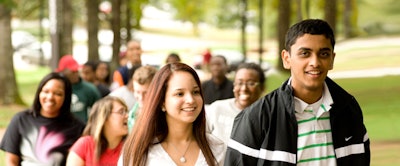 In addition, students may address the lack of campus diversity. Students complain that the college in question does not actively encourage certain clubs and activities. Complaints waged may include lack of diversity in campus groups, clubs, gatherings or community events. It is important for every campus to do more than simply represent the racial and cultural campus majority.
A well-rounded university represents the background of each student and allows students to better assimilate other cultures and feel at home. Campus diversity is about breaking down barriers and allowing students to develop a better-rounded worldview. At the same time, it is the job of faculty and special initiative programs to represent the needs of students.
Race and Ethnicity as a Social Construct
The nation is changing, and higher education institutions owe it to their students to accurately reflect diversity and honor students from a variety of backgrounds. People of color are not only the future workplace leaders of tomorrow, but they will also make up roughly half the future workforce. Supporting campus diversity now can pave the way for the next generation to make great strides in tolerance, acceptance and cultural understanding.
Understanding the Statistics
Communities of color have made great strides to bridge the educational gap in recent years. According to the U.S. Census Bureau, roughly 28 percent of Caucasians 25 years old or older have a four-year degree. However, only 17 percent of African-Americans and 13 percent of Hispanics obtain a college degree by age 25.
However, the statistics regarding young minorities in higher education is showing a gradual increase. Therefore, it is the mission of universities to assist more applicants from different ethnic backgrounds. Colleges and universities must work to ensure that every student has an equal opportunity to succeed.
Positive Outcomes of Encouraging Campus Diversity
Campus diversity is not simply a move toward "political correctness" or allowing students to feel more comfortable. It is a nationwide investment in our future workforce. As the nation becomes increasingly diverse, colleges must prepare students not only for their futures but also the nation's future. The nation's future will ultimately be more inclusive and understanding toward people from diverse backgrounds due to the sheer need for their talent and skills. Diversity is proven to add strength to any entity whether it is business, military, governmental or otherwise. Allowing for input from people of varying backgrounds will guarantee a better outcome whether it is a college activity/program or the federal government itself.
Diversity and the Admissions Process
There are many implications of race-neutral policies in higher educations. Many colleges still employ unspoken class-based admissions systems that do not guarantee adequate placement of minorities or students below the poverty line. Admissions policies that overlook race are predicted to see a dramatic decrease in selective four-year higher education institutions. With a projection of nearly half the future workforce being people of color, universities must create a new and fair process that expands opportunities for all students.
Encouraging free expression and campus diversity benefits students in a lot of ways. Much research is devoted to showing the positive social and academic effects of maintaining a diverse social climate on campus. For many students (White, Hispanic, Asian, African-American, etc.) their college experience may be their maiden voyage into gaining greater insight into other cultures, ethnicities and races. Those hailing from small towns, sheltered backgrounds or very homogenized areas may be greatly unfamiliar with the concept of diversity. A diverse college climate is a valuable chance to learn more about the world outside of one's individual experiences.
Matthew Lynch is a higher education consultant and owner of Lynch Consulting Group, LLC. He currently resides in Richmond, Virginia.