With less than a month away from a Trump administration and the possible end by executive order of the Deferred Action for Childhood Arrivals program, there's a new X factor emerging on whether colleges should become "sanctuary" campuses.
The X factor is labor.
The union movement is not dead yet in America.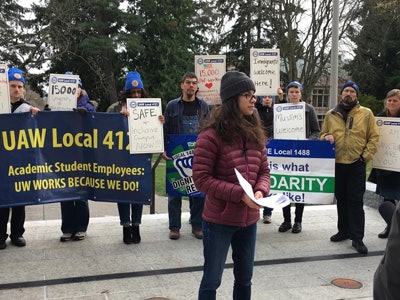 And, in Washington state, union forces are coming together to protect undocumented students and workers from possible deportation.
At the University of Washington, seven unions representing 15,000 workers are asking that the entire university system, including the medical school, become a "sanctuary university."
While many campuses, most notably the University of California and the California State University system, have adopted the word "sanctuary," others like the University of Illinois and Northwestern have balked. Some fear the legal ramifications and impacts to federal funding. Many schools believe that non-cooperation with federal authorities, including protection of student and worker privacy, should be sufficient.
UW stands firmly behind a letter written last month from university President Ana Mari Cauce and Provost Jerry Baldasty that tried to reassure the school's undocumented community. It believes using the word "sanctuary" wouldn't add much to what the school is already doing.
For example, UW Police don't ask students about status or to see papers.
"This is the essence of what is meant by 'sanctuary,'" Cauce and Baldasty wrote in their letter.
But the unions in Washington believe the essence isn't enough when you are hauled off for deportation.
The Inland Boatmen's Union, SEIU 925, SEIU 1199NW, Washington Federation of State Employees Local 1488, the Washington State Nurses Association and UAW 4121 are in agreement.
They want the concrete word and all it stands for: Sanctuary.
"Our opponents say that non-citizens and particularly non-white citizens are less central and less valued to our society, and therefore suitable targets for hostile action," said Andrea Canini, Bargaining Committee member for UAW Local 4121, the union for student workers. In a statement she added:  "Our movement says the opposite: that we are a nation of immigrants, including undocumented immigrants, who are a vital piece of our society who deserve to live without fear. We are not alone in expressing this vision."
"We as a union are ready to protect everyone's civil rights and human rights, regardless of immigration status or religion or ethnic background," added Richard Moore, Executive Board Member of AFT 6486, representing extension lecturers at UW.
But the significant leverage may come from the group rarely heard from in this debate so far, the staff, custodial and trade workers at the university.
"There is a lot of fear right now and the University needs to ensure for their students, their staff and the patients that use these hospitals that this is going to be a safe place for them to come to," said Paula Lukaszek, president of WFSE Local 1488. "We are calling on the entire campus and the University administration to take additional steps now to keep all campus community members safe and ensure they know they are welcome."
Cities aren't afraid to use the term sanctuary, but schools and universities seem to want to hedge their bets.
That's not becoming of the institutions that should be the thought leaders when it comes to taking important moral stands.
Maybe the force of labor will help higher ed officials to stand taller and not slouch in the defense of the undocumented dreamers.
Emil Guillermo is a veteran journalist and commentator who writes for the civil rights organization AALDEF at http://www.aaldef.org/blog