Twenty-four to 72 hours was the timeframe for publicly addressing pressing issues and crises in college sports as well as other institutional emergencies. However, the response time is now two to three minutes, according to administrators and experts.
Several prominent names in the world of college sports say they cannot emphasize enough the importance of being proactive and having a plan to deal with crises. ­They say that athletic directors must be prepared for that 3 a.m. phone call that requires immediate action.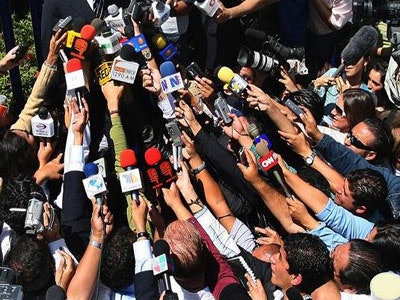 "Our president, Father William P. Leahy, put together a crisis committee. It included the president, the dean of students, the chief of police, the director of athletics and the sports information director. Since we're a Catholic institution and it might involve a death of a student-athlete, we had a priest. Also, the vice president of public affairs," says Gene DeFilippo, former athletic director of Boston College, who is currently senior executive director of college sports at Turnkey Search.
"So when I got a call in the middle of the night, my first call was to the president to let him know what was going on," he adds. "­Then I would make the calls and we'd meet in the president's office as early as we could."
At a recent panel discussion titled, "Crisis Management: Proactive Steps for Mitigating Risk and Being Prepared When a Crisis Strikes," held at the 2016 Learfield Intercollegiate Athletics Forum and presented by SportsBusiness Daily/Global/Journal, panelists examined both practical and strategic positions stakeholders in college athletics must take to effectively address a crisis.
News is immediate
"Five or 10 years ago … if you got a call at 2:30 or 3 o'clock in the morning, we might be able to wait until 8 o'clock the next day," says Jim Livengood, former athletic director of ­the University of Arizona, the University of Nevada, Las Vegas (UNLV) and Washington State University. Livengood is now a consultant of a crisis management company.
"In all likelihood, the world that we all live in right now, probably social media has the information prior to you getting that call. ­The area that's most critical right now is that communication train — making sure that you have a group you've planned," he adds. "It's not a question [of] if something's going to happen. It's a question of when it's going to happen."
Livengood says the president or chancellor of the institution must be immediately informed. He had a crisis team at every university at which he worked, Livengood says, adding there is no such thing as too much planning.
It must be an inclusive group and an ever-evolving plan, he notes.
Obviously, different situations require different reactions — whether it is an incident of sexual misconduct, a car accident or a cheating scandal — and an institution must react accordingly.
Administrators have to think through many possible scenarios and establish who will be making public statements.
At many institutions, individuals are designated in advance as to who will contact parents and media. Public relations staff often monitor social media.
While instincts may prompt administrators to try to keep things under wraps until some resolution can be found, that isn't a viable option in the present day, administrators say.
Having a plan and putting that plan into effect is crucial.
"We had a philosophy: when you could, tell it all and tell it quick, and try to keep it a one-day story," says DeFilippo.
Balancing act
How do athletic directors act with immediacy when not all the information may be immediately available? Livengood says that lack of comment while waiting for complete information can be perceived as withholding.
From a legal standpoint, sometimes one cannot speak because providing incomplete information could cause greater problems.
"A lot of times you're trying to protect a staff member or, in a lot of cases, a student-athlete. You don't want to throw a student-athlete under the bus, so you can't tell a lot of things," says DeFilippo. "That student has a right to be protected even if he or she did something wrong."
Carrie Gerlach Cecil, CEO of Social Media Sports Management, says that not every detail has to be revealed, but there should be a message that reflects the integrity of an institution. That's why it's important to establish messaging based on core values and principles, she says. Tone should reflect the situation at hand.
"A shooter in your stadium is much different than a student-athlete posting a picture of himself naked," she says. "These are two different crises. One is a branding crisis and one is dealing with the loss of human life. So, tonally your reflection should always be based on whatever the situation is at hand. You need to have that book put together before and also who gives that response."
Administrators and experts say it should be established in advance who makes the statements or speaks to the press in a given situation. In some institutions that is the president and in others the athletic director.
Planning is essential
Former conference commissioner Dan Beebe, now a private consultant and president of the Dan Beebe Group, says that all self-promotion aside, he truly thinks it is preferable to have an independent outside entity set up the crisis procedures so that every possible angle is examined.
"If you don't have the processes in place to be able to deal with people problems — either before they become an issue or once they become an issue — it can become a bigger problem," says Beebe. "If you're involving people who didn't go to school at your school and don't depend on this place for their livelihood, you're in a better position when something does happen.
"Let us tell you all the measures we took to make sure the most vulnerable — whether employee or student-athlete — could raise a concern and have it dealt with," he adds.
Having an open-door policy doesn't suffice in the court of public opinion or in a legal setting.
In such a litigious climate, it is beneficial for institutions to have a digital footprint that shows they did the right thing, says Gerlach Cecil. In several cases this year, including at Baylor University, where the university was embroiled in a sexual assault scandal and allegations of Title IX violations, training related to Title IX, diversity and social media was found to be ad hoc.
"We can no longer afford to simply say that we did the right thing. We have to be able to prove we did the right thing," says Gerlach Cecil. "Whether that's with an independent outside group or counsel … you have to have that check and balance in place. I can't imagine being an athletic director in today's day and age and not having a slew of experts in place to make sure you're protected and covered."
Beebe advises setting up teams that reflect diversity of the athletic department in terms of race, gender and level and engaging them in examining any crisis issue. If there are allegations of misconduct, the athletic director can refer it to the relevant team and call into action a process and guidelines previously established.
"Everybody should understand there's going to be a process of information gathering and finding out what's going on," Beebe says. "If you already have that set up … you're in a much better position of credibility."
Proactive strategy is key, including consistent training. This can figure prominently if there is legal action, say administrators.
"A lawyer's eyes light up when there are no policies and procedures, when there is not consistency and when there's bias," says Glenn Wong, executive director of the Sports Law and Business Program at the Sandra Day O'Connor College of Law at Arizona State University. "Those are checkmarks if you're representing the plaintiff that you'd like to see."