The White House Initiative on Historically Black Colleges and Universities (HBCUs) will move from the U.S. Department of Education to the White House, per an executive order on HBCUs signed by President Donald Trump on Tuesday afternoon.
Trump's order was the culmination of the "HBCU Fly-In," a two-day convening on Capitol Hill in which approximately 90 HBCU presidents met with the president, senior staff members in the administration, and congressional leaders. HBCU leaders present for the Fly-In represented a sizable majority of the entire HBCU community. There are 101 accredited HBCUs across the United States.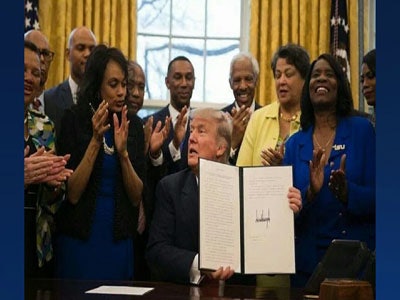 Moving the initiative to the White House indicates that the current administration "is listening, and responding, to the requests that we are making," said Dr. Henry N. Tisdale, president of Claflin University, a four-year, private institution located in Orangeburg, South Carolina.
Organizations that advocate for HBCUs on Capitol Hill, such as the United Negro College Fund (UNCF), Thurgood Marshall College Fund (TMCF), and the National Association for Equal Opportunity in Higher Education (NAFEO), communicated with the administration about the order as it was being crafted. They recommended that the order move the initiative to the White House and that the administration increase federal funding for HBCUs.
While the initiative will move to the White House, the order released on Tuesday does not contain any specific funding directives. Nevertheless, HBCU advocates say that they are cautiously optimistic about working with Congress and the administration to see their priorities met.
According to Johnny C. Taylor, president of TMCF, HBCUs are asking for a $25 billion one-time investment to kick-start much-needed infrastructure development on all HBCU campuses.
While $25 billion may appear to be a big ask, a number of elite institutions have endowments that are the same size or larger, Taylor said. "Put that in context — Harvard University's endowment is bigger than $25 billion," he added. The proposed $25 billion would be dispersed among all 101 HBCUs, public and private.
A substantial, one-time investment in HBCUs "would be a great benefit," Tisdale said.
"I believe that it would be an infusion that would do more than just let us make incremental changes," Tisdale added. "It would be a game-changer in terms of the investment in our campus for innovation."
Other funding priorities for HBCUs include restoring the year-round Pell Grant, funding to help restore buildings on HBCU campuses that are historic or in need of renovation, and funding to invest in technology infrastructure on school campuses.
While the HBCU community will have to wait and see how Congress decides to act in the next budget, having a voice in the conversation is critical, Taylor said. "Frankly, the attention that we've received in the last 45 days or so exceeds not just this past administration but the past three or four administrations," he added.
Dr. Marybeth Gasman, a professor of higher education at the Graduate School of Education at the University of Pennsylvania and director of the Penn Center of Minority Serving Institutions, expressed doubts about the end result of moving the initiative to the White House. "I don't see a lot happening under Trump nor do I think he is sincere," she said in an email.
"I don't think it's a good idea to have the initiative in the White House — under another president (Republican or Democrat), I would not be worried, but Trump is a tyrant who has surrounded himself with White supremacists," she said.
The HBCU Fly-In was organized to provide a venue for HBCU presidents to discuss their vision for the future of HBCUs with the president and members of Congress. Rep. Mark Walker, R-N.C., and Sen. Tim Scott, R-S.C., facilitated a conversation with congressional leaders and HBCU presidents in a day-long event on Tuesday.
At a press briefing on Tuesday, Scott told reporters that HBCUs had lost $160 million during the Obama administration and that the HBCU community stands to benefit from a relationship with Republican leadership in both the executive and legislative branch.
HBCUs suffered under some Obama administration policies. The HBCU community was disproportionately impacted by a 2011 change to Direct Plus Loan for parents eligibility, which resulted in thousands of families being denied loans and a decline in HBCU enrollments. The impact on families and institutions was so severe that then-Secretary of Education Arne Duncan apologized to the HBCU community during the 2013 HBCU Week Conference.
The HBCU Fly-In was not without moments of controversy. On Monday night, ED released a statement from Secretary of Education Betsy DeVos following a listening session on Monday with HBCU leaders. DeVos referred to HBCUs as "real pioneers of school choice" in the statement.
"[HBCUs] started from the fact that there were too many students in America who did not have equal access to education," the statement read. "They saw that the system wasn't working, that there was an absence of opportunity, so they took it upon themselves to provide the solution."
Her comments, which appeared to elide the structural issues of slavery and the laws that historically prevented Black students from attending White schools, elicited a social media uproar. Many HBCUs trace their origins back to the Reconstruction era, and after, a period when Black students were barred from attending White institutions.
When asked by reporters about DeVos' statements on Tuesday, Scott commented, "My only response is that clarity in your statements is always important."
DeVos addressed the topic of school choice again at a lunch with HBCU presidents at the Library of Congress on Tuesday afternoon. The lunch was closed to press, but ED sent out DeVos' prepared remarks in an email.
"Bucking that status quo, and providing an alternative option to students denied the right to attend a quality school is the legacy of HBCUs," DeVos said. "But your history was born, not out of mere choice, but out of necessity, in the face of racism, and in the aftermath of the Civil War."
"HBCUs remain at the forefront of opening doors that had previously been closed to so many. You made higher education accessible to students who otherwise would have been denied the opportunity."
Staff writer Catherine Morris can be reached at cmorris@diverseeducation.com.