Higher education experts were reeling amid the release of President Donald Trump's newly released budget titled "A New Foundation for American Greatness."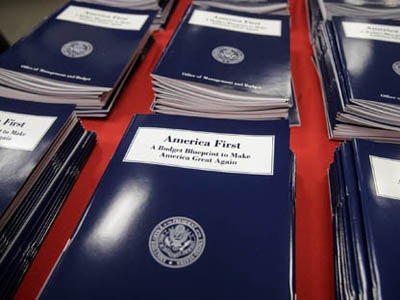 The proposed federal budget seeks to eliminate six loan and grant programs providing financial aid to low-income and working-class students.
"President Trump's higher-education cuts are cruel and callous to students, and they betray our responsibility to enable opportunity for young people and provide a path for them to achieve their dreams," said Randi Weingarten, president of the American Federation of Teachers.
"It is especially catastrophic to lower-income students and those aspiring to public service, while serving as a windfall for loan companies, debt collectors and those seeking a profit off of education."
Betsy DeVos, the U.S. Secretary of Education, defended the proposed cuts.
"The budget also reflects a series of tough choices we have had to make when assessing the best use of taxpayer money," DeVos said in a statement, adding that if approved, the new FY18 budget would save taxpayers $142 billion over the next 10 years.
Under the proposed plan, the Department of Education is planning to phase out:
Subsidized Stafford Loans
Supplemental Educational Opportunity Grants
All current income-based payment plans
Public service loan forgiveness
Perkins Loan Program
Pell Grant inflation adjustment
Pell Grant reserve
The financial aid cuts would transfer to about $76 billion to the Department of Homeland Security or Defense budgets. It will also drastically reduce:
Federal work study programs by $487 million (almost half)
TRIO Programs by 10 percent
GEAR UP programs by 33 percent
Mamie Voight, vice president of policy research at the Institute for Higher Education Policy, said that the cuts would be devastating to students who are planning to matriculate into college.
"Proposed cuts to critical education programs like Federal TRIO and GEAR UP would also block the very pathways that help young students in need prepare for entry and success in higher education," said Voight.
For undergraduates, the new income-driven plan would cap the monthly payment at 12.5 percent of an individual's income for 15 years and the remaining debt would then be forgiven. For graduate debt, the remaining balance would be forgiven after 30 years. The plan would only affect new loans issued on or after July 1, 2018.
By eliminating the Supplemental Educational Opportunity grants, experts charge that Trump's plan would strip financial aid from the neediest students. And the severe reductions in TRIO and GEAR UP, experts argue, would mean thousands of students would have to search for a new way to pay for their education.
American Council on Education President Molly Corbett Broad said that the budget would hurt working-class Americans.
"There should be no mistake: Deep cuts to student aid will have a modest impact on upper-income families, but it will crush the personal and economic aspirations of low-income and working class Americans for whom enrolling in college is an opportunity for better jobs and a brighter economic future," said Broad who is set to step down as president of ACE in October.
The implementation of Trump's education budget widens the already devastating gap between low-income, first-generation students aiming to progress and the upper middle class, said Kelly McManus, director of governmental affairs for The Education Trust. She added that freezing the Pell grant and moving away from subsidized loans "will absolutely make college more expensive in the long run and lead to more debt for low-income students."
The budget also did not include funding for Title IV, Part A, a block grant that provides support for college counseling, test fee waivers, and many other student support services.
The National Association for College Admission issued a statement urging Congress to "reject this budget and invest in our educational system so that all our students can take full advantage of their potential."
With the removal of almost half of federal work study, many low-income to working-class students are not only let go from work, but now have no ability to fund their education, said officials at Young Invincibles, a national non-profit that focuses on empowering young Americans with information regarding healthcare, jobs economic opportunity and higher education.
"This budget is grossly out of step with the needs of young people and the priorities of most members of Congress," said Reid Setzer, government affairs director for Young Invincibles. "It fails to invest in young people and the future of our country, by slashing opportunities for young adults to gain skills through education, sustain themselves and their families and contribute to our workforce."
A.K. Brunini can be reached at abrunini@diverseeducation.com