If you want to see what diversity might look like in the future, just go to the campuses of the University of California come September.
The fall 2017 freshman class at UC system-wide may just be the picture of America's future diversity.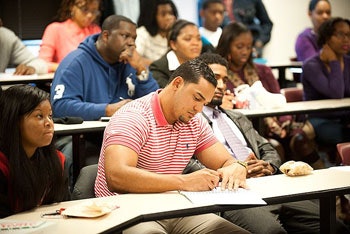 In just-released numbers by the university, UC admitted a freshman class in which students of color make up 73.6 percent of the incoming class, while Whites are just 23.7 percent. The White student population is down 1.7 percent since 2015.
The biggest gain was seen among Chicano/Latino students who make up 37.3 percent of the freshman class. It represents a gain of 6,512 students since 2015.
Asian American students were next with a 29.1 percent share of the freshman class with 32, 497 students university-wide. That represents a gain of 996 students since 2015.
African American students held steady at around 6,919 students or 6.2 percent of the freshman class. The number was 6,268 in 2015 (6.1 percent). In 2016, the number improved to 6,589 (6.3 percent). Since 2015, the university has improved by just 651 students.
Among the smaller groups, American Indians also stayed steady with 663 admits at 0.6 percent of the freshman class. The number has been similar over the last two years but shows an overall loss of 32 students.
Pacific Islanders are also included in the freshman tally with 394 students in the 2017 class, a 0.4 percent gain.
Among the campuses, the freshman class shows Asian Americans are a plurality at Berkeley (36.1 percent); Davis (36.4 percent); Irvine (38.7 percent); UCLA (34.3 percent); San Diego (38 percent).
Asian Americans are the second largest group after Latinos at the other four campuses: Merced (27.4 percent); Riverside (33.1 percent); Santa Barbara (30.9 percent); Santa Cruz (29.2 percent).
The only disappointment may be in the continued small African American numbers being less than 10 percent. But actual number of Black students represents an overrepresentation of the population in the state.
African Americans do lead the way in transfers from California community colleges. By percentages African Americans lead in admissions gains since 2015, with a 38.5 percentage gain (325 students). Chicano/Latinos were next with a 31.6 percent gain (1541 students).
According to the Public Policy Institute of California and based on the state's Department of Finance, the state's demographic breakdown is 38 percent White, 39 percent Latino, 14 percent Asian, 6 percent African American, 3 percent multiracial, and 1 percent or less American Indian/Pacific Islander.
By that measure, UC's freshman class is not exactly a perfect mirror, but as Latinos and African Americans are at or near the state population, Whites have become underrepresented in the UC freshman class numbers at just 23.7 percent.
The numbers released by UC today also add out-of-state students and international students. For many schools, it's been the way to charge much higher tuition and fees. There were 17,756 out-of-state students in the 2017 UC freshman class, an increase of 3.5 percent since 2015.
In-state students (69,972) actually were down during the same period by 1.7 percent.
International students are seeing a boom by comparison with a 5.4 percent increase since 2015. The freshman class has 18,283 students.
The UC with the most international students is UC Davis with 8,415 international freshman admits. UC Irvine was next with 7,198.
UC San Diego led the way with most out-of-state admits (5,845). UCLA was second (4,871). The most California student admits were to UC Riverside (22,105). UC Irvine was second with 21,056.
Emil Guillermo is an award-winning reporter and commentator who writes for the civil rights group AALDEF at https://www.aaldef.org/blog/