Much has been made of the rising cost of college tuition, less about the rising cost of childcare, although it is not less onerous. In many states, the cost of childcare exceeds the cost of tuition at a four-year college, according to a 2016 report from The Care Index.
As a result, the cost of childcare can be a stretch even for people with a solid income. Imagine then, trying to make ends meet while in school without any money coming in other than loans or a part-time or minimum wage job.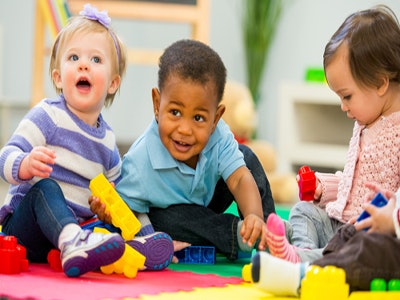 Yet that is precisely the predicament that many low-income parents find themselves in, and they represent a growing share of the college-going population. More than a quarter of undergraduates are parents, according to a 2014 Institute for Women's Policy Research report. At the same time that the cost of childcare has gone up, many childcare centers on college campuses have shuttered due to funding issues, leaving parents with fewer options and higher bills.
In 1998, Congress created a grant program aimed at helping low-income parents in college pay for childcare. The Child Care Access Means Parents In School (CCAMPIS) program is a little-known federal initiative that has had an outsize impact on the thousands of students it has reached, according to advocates.
CCAMPIS, however, is one of the programs slated to be cut from the federal budget in the upcoming fiscal year. The program was one of several higher education programs slashed in the Trump administration's budget proposal.
Funded at $15 million annually since 2014, the program is a drop in the bucket relative to the larger federal budget. The program reached its funding apex at $25 million in 2001 during the Bush administration. Yet despite its small size, advocacy groups such as Young Invincibles say that the program has an outsize impact on the approximately 5,000 students it reaches annually.
Students can also attest to its importance. For Kyle Cerka and his partner, Stacey, the CCAMPIS grant meant the difference between attaining their educational and career goals – or having to put them on hold while their children were still young. Cerka estimates that childcare for his two children would have cost between $1,500 and $1,700 per month, a prohibitive amount on the family's budget at the time, while he attended Ferris State University.
"Without the CCAMPIS grant, we both wouldn't have been able to be in school for sure," Cerka said. "There's a possibility we both wouldn't have been able to attend school because we would have to work just to get child care, which kind of contradicts itself."
Even with the grant, Cerka worked on campus 20 to 25 hours a week while in school to help cover other living expenses, and just graduated from Ferris State this past May. He now works as a manufacturing engineer at Magna Engineering Glass in Holland, Michigan, while Stacey is in her last few weeks of a master's in social work at Grand Valley State University.
The CCAMPIS grant was a lifesaver because the family had few other options, Cerka explained. They were hesitant to take out loans to pay for childcare, which would have shackled them with debt before they could start out in their new careers. Nor were they eligible for other types of grant programs.
"Pretty much, long story short, without the grant there would have been no way we could stay in school," Cerka said.
The grant goes far beyond simply enabling students to persist in school, according to Ann Reynolds, CCAMPIS advisor at Mount Wachusett Community College in Massachusetts. She has seen firsthand the impact it has on their ability to succeed academically. At Mount Wachusett, the average GPA of a CCAMPIS recipient is 3.46, according to Reynolds.
"The peace of mind they get when they get that monetary piece and the support that they get from CCAMPIS, it helps," Reynolds said.
While Reynolds is excited about the lives that have been changed through the program, she noted that there is much greater need for childcare assistance in Massachusetts. There are nearly 24,000 children on the state's child-care subsidy waiting list, for example.
By comparison, up to 30 students have received a CCAMPIS grant per semester at Mount Wachusett. Yet even if the cohort size may be small, the impact is incalculable, according to Reynolds.
"For many of these students, I think it's the difference between obtaining a degree now or waiting until later," Reynolds said. "I think if they wait until later, they may not go back. It changes lives."
Erin Jones, a military veteran and current Mount Wachusett student, has been able to maintain a 3.9 GPA while caring for her two young children as a single mother. She plans to earn an associate's in nursing, and attributes her newfound vision for her career to the opportunities afforded to her through the CCAMPIS grant.
"If I didn't have any help at all, I wouldn't be in the nursing program, because I wouldn't be able to afford the family care that goes along with the time needed to complete the coursework," Jones said. "So it is a night and day difference."
Advocacy groups including Young Invincibles argue that expanding the program would help more students graduate and improve the lives of thousands of families across the country. Young Invincibles, whose stated mission is "to amplify the voices of young adults in the political process and expand economic opportunity for our generation," estimates that funding the program at $500 million would help it reach 250,000 student parents living below the federal poverty line.
"Support services like this are pretty intrinsic to getting people through school and being able to get the skills to get a job and support their family in the future," said Reid Setzer, government affairs director at Young Invincibles.
A 2016 bill co-sponsored by Rep. Tammy Duckworth (D.-IL) and Rep. Katherine Clark (D.-MA) would raise the appropriation to $67 million.
Staff writer Catherine Morris can be reached at [email protected].