College costs have accelerated exponentially over the past several decades, a major factor in federal student loan debt now totaling more than $1 trillion. Private college leaders, however, say that they may have a solution. They want a chance to experiment with collaborative efforts across institutions aimed at bringing college costs down.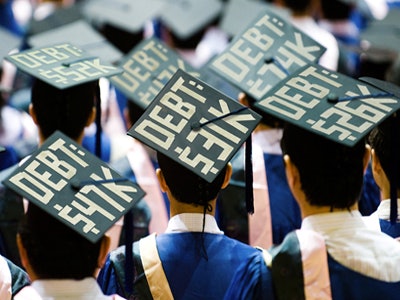 The National Association of Independent Colleges and Universities (NAICU) has proposed that Congress temporarily ease federal antitrust laws that prohibit private colleges from discussing prices and student aid. The current law is designed to prevent collusion across industry sectors, which might drive prices up.
Schools argue that they have a vested interest in reducing tuition prices to make themselves attractive to more students, and that a tuition reset would be most effective when done in concert with other institutions.
"As prices have escalated, we're all sitting here wondering how can we best control the price perception issue, drive the price down, drive the discount rate down with it and get to a cost that is more aligned with the real cost to us per capita to run the institution," said Dr. Steven R. DiSalvo, president of Saint Anselm College in Manchester, New Hampshire.
A handful of schools have attempted tuition resets on their own. Rosemont College in suburban Philadelphia, for instance, decided to cut costs to students from $46,000 in prior years to $30,000 for 2016-2017. The school reported a 15 percent increase in enrollment for last fall.
An exemption to federal antitrust laws may be an unusual measure, but proponents say that it could give the sector the leverage to respond to current strains. Institutions have had to respond to many external pressures of late. The economic downturn created financial troubles for schools and families alike, while the available pool of prospective applicants is growing smaller, leading to more competition among institutions for the same students.
"There's a lot of economic pressures that have accelerated since the economic downturn – you have many more families with need and we are at a price tipping point," said Sarah A. Flanagan, vice president for government relations and policy development at NAICU. "Families are looking at sticker price and are saying, 'I can't afford this, I'm not even going to look at this institution.'"
The so-called "sticker price" at many private schools can indeed be quite intimidating. Many elite private schools now cost upwards of $70,000 annually for the basics: tuition, fees and room and board.
Yet there is a growing mismatch between the sticker price and the actual net price that the average student ends up paying. Few schools, other than those with substantial endowments, have the ability to be fully need-blind. In response, many schools have turned to tuition discounting to attract students who either cannot afford or may be otherwise deterred by the price of college.
The end result is something of an academic arms race: as the price of tuition has gone up, so has the amount by which many schools undercut their own asking price. The 2016-2017 academic year
showed a continuance of that trend and was the most steeply discounted year on record yet, according to the annual National Association of College and University Business Officers (NACUBO) tuition discounting study.
On average, small, private non-profit colleges offered a 49.1 percent institutional discount rate for first-time, full-time students, NACUBO found. Among all undergraduates, the discount rate was 44.2 percent.
The survey also suggested that some schools see the current situation as ultimately untenable. Approximately 40 percent of chief business officers said that their current discount practices are not sustainable, or are sustainable only for the next three years at best.
"These responses suggest that many private college campus CBOs believe that their schools have reached discount rates they may not be able to sustain for much longer," Ken Redd, director of research and policy analysis at NACUBO, said in an email.
Part of the problem for schools is that price is so often aligned with perception. When a school reduces its tuition, it risks signaling to students and their families that it is in trouble.
"When the going was good, there was a tendency to think that not jacking up prices would somehow diminish an institution's appeal because people generally connected high prices with higher quality," said Barmak Nassirian, director of federal relations and policy analysis at the American Association of State Colleges and Universities.
Nevertheless, some schools are already reconsidering their current prices. About a quarter of the schools that NACUBO surveyed reported experimenting with tuition freezes, tuition cuts, and other attempts to slow the growth rate of tuition hikes.
Schools are now in a difficult position with no easy way out, Nassirian acknowledged, but they need to develop a more compelling case for why they should be granted an exemption to antitrust laws. "The notion that somehow within one sector, price fixing is actually going to make things more affordable runs counter to one hundred years of economic theory," Nassirian said.
Colleges contend that there would be a social benefit to a collective tuition reset. If they could discuss prices, they would be able to link tuition to the real cost of college, rein in sticker prices that have escalated beyond control, and turn over some of the savings to financial aid.
"We're just at a point where this isn't working anymore and we want students to have choice to go to the institution that's the best fit," Flanagan said. "It may be a community college, it may be a public college, but it also may be a private college that has whatever that student needs, whether by mission or by program."
Staff writer Catherine Morris can be reached at cmorris@diverseeducation.com.