Sweet Briar College, an all-women's school located in the Virginia foothills of the Blue Ridge Mountains, is poised to begin yet another chapter of its existence for the 2018-'19 academic year. The school, which nearly closed in 2015, plans to restructure its curriculum around three "centers of excellence" and reduce its cost of attendance by a third.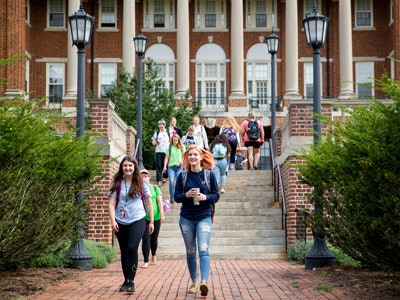 These steps are part of a continued effort to get Sweet Briar back on track after the former board of directors announced plans to close the school in early 2015, citing concerns about finances and enrollment numbers. Alumnae rallied to keep the doors open, initiating a lawsuit to reverse the board's decision and raising millions of dollars to keep the school afloat during the rocky times that lay ahead.
Although alumnae succeeded in saving the school, Sweet Briar is still grappling with the consequences of the abrupt near-closure. Many faculty left, although some later returned, and student enrollments dropped from 561 in 2014-15 to 245 the following academic year. Since then, the school has been in rebuilding mode, led by interim president Phillip Stone until the selection of a new permanent president, Dr. Meredith Woo, this past spring.
Current board chair and Sweet Briar alumna, Teresa Pike Tomlinson, said that college leaders have been laying the groundwork for the new plan ever since board leadership switched over in the wake of the attempted closure. "We had the opportunity in these two years to get the foundations set," Tomlinson, who is also the mayor of Columbus, Georgia, said. Since then, the school has made updates in key areas, such as its enrollment management systems. Prepared to hit the ground running, Sweet Briar is now readying itself for a new future.
"What's so exciting about today is this is the key to the next chapter for Sweet Briar – the revising of our liberal arts curriculum for today's world," Tomlinson said. "We love that it's bold."
Sweet Briar will "double down" on the liberal arts model, according to Woo, while reframing the way in which it delivers that education. "As commendable as the mission and goal of the liberal arts may be, the way it is taught and the context it provides may not be very relevant for the 21st century," Woo said.
The current plan to develop three centers of excellence focused on Engineering, Science and Technology in Society; Environmental and Human Sustainability; and Creativity, Design and the Arts was developed over the summer with input from faculty and staff. Faculty will fill in the details this fall, deciding which majors to keep and which to integrate into interdisciplinary departments or majors, according to Dr. Linda Fink, professor of ecology and a member of two working groups tasked with developing the current plan this summer.
"Now we have the bare bones of what our core curriculum is going to look like and what the centers are going to be, but this fall is the time where all faculty are going to be asked to weigh in and participate in the process of clarifying the design," Fink said.
Sweet Briar also plans to introduce a 3-12-12-3 week calendar, a change intended to allow students to make the most of internship, study abroad and research opportunities, while also giving the school new leverage to bring guest lecturers to campus during the shortened blocks. Woo pointed out that Sweet Briar is located close by Washington, D.C., with access to policy makers and other leaders, who could feasibly be enticed to come down for three week periods.
"The task going forward is to have excellence drive everything we do, and to make a degree from Sweet Briar [as] valuable and as coveted as we hope we can make it," Woo said.
Faculty will vote on the final plan in December.
For years, private liberal arts colleges have been criticized for their prohibitively high tuition prices, where the total cost of attendance at some schools has exceeded $70,000. At Sweet Briar, the current sticker price is just over $50,000 for tuition, room and board. Like the majority of liberal arts colleges, however, Sweet Briar has been heavily discounting its stated tuition price for years at anywhere between 60 to 70 percent.
The high tuition and high discount model benefits no one, Woo argued, other than the handful of schools with endowments high enough to afford generous scholarship and financial aid packages. Instead, high tuitions deter some students from even applying, causing schools to miss out on potential students. Some students in turn choose not apply to schools where they might have thrived, not realizing that they might have been eligible for financial aid or scholarships that would have made their education more affordable.
"We're just not going to be part of this crazy game of impossibly high tuition prices matched with impossibly high discount rates," Woo said. "We're going to make it sensible."
In announcing a tuition reset, Sweet Briar follows the example of a handful of school such as Utica College in New York and Rosemont College in Philadelphia, and others who have paved the way in that regard. By reducing the total cost of attendance to $34,000, Sweet Briar will bring its costs closer in line with in-state tuition at the University of Virginia. The college will continue to offer scholarships and financial aid.
"We hope this reset will make people realize that private education is almost as affordable as public education, and that Sweet Briar can be seen almost as an honors college, in terms of its intense education and intimacy," Woo said.
While school officials say that the institution is financially sustainable at its current size, they hope to grow enrollments going forward. Currently, there are approximately 300 students on campus, resulting in in a student to faculty ratio of four to one.
Woo is confident that the proposed changes will set Sweet Briar apart and make it an enticing prospect to future students. "We're pretty confident that we're in the right trajectory to grow," Woo said, adding that the current state of school is remarkable considering that just two years ago, it was all but shut down.
"Sweet Briar is in a very good position to make profound and meaningful changes for the better," Woo said.
Staff writer Catherine Morris can be reached at cmorris@diverseeducation.com.