As part of a growing trend among businesses seeking to attract and retain dedicated talent, Dollar General announced that employees will be eligible for a tuition reimbursement program covering all or much of the cost of attending an online degree program at Bellevue University.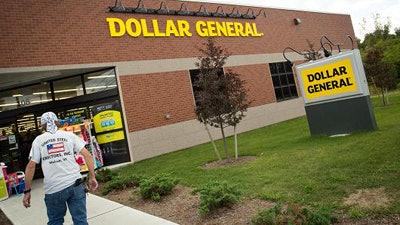 Under the deal, all full-time and part-time Dollar General employees now qualify for $8,000 and $5,250, respectively, after working at Dollar General for a minimum of 30 days, the company said in a statement.
Immediate family members of employees are also eligible for up to $2,625 as well, the corporation said. To qualify, employees must maintain full-time student status throughout the degree program.
The tuition reimbursement is good every year and can cover up to $32,000 over the course of a four-year bachelor's degree, according to the company. The average annual cost of attendance at Bellevue is $8,770, federal data show.
Experts say the initiative — announced earlier this week — adds to the number of commercial retailers, restaurant chains and the like that are offering to cover the cost of education for their employees in order to attract better candidates who are interested in moving up within the company.
For instance, last month, Chipotle Mexican Grill added the University of Denver to the various colleges and universities that employees can access through a partnership with Guild Education, an organization that helps employers offer education benefits to their employees.
Steve Ells, founder, chairman and CEO at Chipotle, has stated that the company is "seeing strong results in terms of enrollment, retention, and internal promotions among employees who are participating in the program."
Andrew R. Hanson, senior analyst at the Georgetown Center on Education & the Workforce, said employers and universities can leverage federal and institutional aid to advertise a huge benefit — $8,000 in the case of the Dollar General / Bellevue agreement, which is similar to other agreements.
"Employers value these programs because they generate positive publicity for the employer as they are perceived to value education and their employees' personal and professional development," Hanson said. The programs also enable employers to "attract better candidates who are interested in upskilling and pursuing their professional development to their company."
Hanson said there are practical reasons that employers like tuition assistance programs.
For starters, the programs can reduce the cost of training — something that he said can be "extremely costly when retention rates are low."
"They also offer them for the same reason they offer health insurance and retirement plans: they're tax deductible," Hanson said.
Hanson declined to comment specifically on the Dollar General / Bellevue University agreement, saying he didn't know enough about it.
However, he indicated that the best tuition assistance programs, or TAPs, pay the partner institution directly rather than having employees pay out of pocket and reimbursing them later. The best programs also align the programs with their in-house talent development and training initiatives, which he said is "rare as TAP is often siloed and has low participation rates" of around five percent of eligible employees.
"So it's not enough for employers to have these programs and generate publicity," Hanson said. "They also ought to work to promote their employees' participation in them by making it easy to participate and helping their employees understand how these programs can help them achieve their long-term career goals within or outside the company."
Asked what the research says on the effectiveness of tuition assistance programs from employers, Hanson pointed to a recent white paper that found the Cigna Corporation achieved a 129 percent return on investment from 2012 to 2014 though its employee reimbursement program as a result of "avoided talent management costs." Cigna employees who took advantage of the program achieved 43 percent higher incremental wage gains, the report from the Lumina Foundation found.
Whether Dollar General can achieve similar success remains to be seen.
Bob Ravener, Dollar General's executive vice president and chief people officer, said the partnership "further demonstrates our ongoing commitment to provide our employees with opportunities to gain new skills, develop their talents and advance within the company, which is reflected in our strong promotion and placement rates."
"We look forward to celebrating the future graduations of our valued employees and their family members," Ravener said.
Dr. Mary Hawkins, president of Bellevue University, said she is "excited about the possibilities of this partnership."
While the average cost of attendance at Bellevue is $8,770, slightly below the national average, according to The College Scorecard, its graduation rate is also below the national average, at 27 percent, the scorecard states. The average salary of Bellevue students who received federal financial aid is $52,800 10 years after entering the school, the scorecard states.
Jamaal Abdul-Alim can be reached at jabdul-alim@diverseeducation.com or you can follow him on Twitter @dcwriter360.