Last August, graduate students at Columbia University successfully campaigned for unionization. In what is now known as "the Columbia Decision," the National Labor Relations Board, or NLRB, ruled that graduate students at private universities should be recognized as a workforce and thus be permitted to seek unionization and bargaining rights.
While some expected a sudden and systemic shift towards unionization at the nation's other prominent institutions to follow, the transformation has been slow to materialize.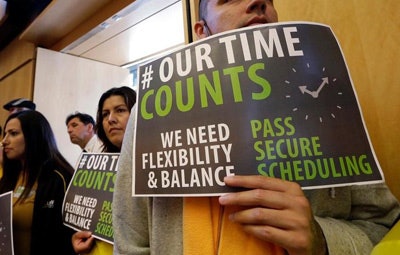 Graduate student employee organizations at various universities have encountered oppositional administrations as well as the slow-moving bureaucracy of the NLRB, a government agency whose members are appointed by the president of the United States with Senate approval. Universities across the country are currently at different phases in their unionization efforts, struggling against a common anti-union discourse.
Over a year after the Columbia decision, the University of Chicago held an election last week to determine whether its graduate students would also form a union. More than 1,500 ballots were cast, and 70 percent voted in favor of unionization.
"The atmosphere is very charged here," said Chaz Lee on Tuesday during the midst of the voting. As a seventh-year Ph.D. student and an organizer for Graduate Students United, or GSU, at the University of Chicago, Lee has witnessed the evolution of this campaign. He explained that although the Columbia decision provided an impetus for concrete action, GSU has worked for over a decade to represent the interests of the graduate student community.
"We've inherited a very good organization from our forbearers who started GSU in 2007," Lee said. "If you're on campus right now, what you'd be really feeling is just the general excitement and pride that we've finally made it to this point."
That said, there were many phases and obstacles preceding the election. Last fall, GSU voted to affiliate with the American Federation of Teachers, or AFT, a national union that would provide legal and other resources to local chapters.
AFT's involvement has been a primary point of contention for the university's administration. Executive Vice Provost David Nirenberg wrote an email to graduate students expressing concerns that, if a graduate student union were approved, "students would be exclusively represented in labor negotiations by the AFT, and made to support its interests, even if they opposed the union or did not vote in the election." The email was published on a "Know the Facts" page that includes other information the university believes should be considered before voting in the election.
Graduate employees described this as a false characterization of AFT and an invalid concern on the university's part.
"It's been an argument that the admin has used for some time now, I presume in an effort to make this seem like it's not something the students want," said Daniela Palmer, a sixth-year Ph.D. student and departmental organizer for GSU. "When we voted to affiliate with them, it was clear that their proposal to us was focused on local autonomy, and that has been true through this campaign."
Following affiliation, GSU began a membership card campaign, which required that at least 30 percent of graduate students register for membership cards before the NLRB approves an election.
"We wanted to be well-beyond 30 percent just to go in with a strong support base, and we were successful in that," said Palmer. GSU filed its membership cards on May 8, after which the NLRB hearings with the university began. Palmer explained that this process was drawn out by the administration.
"They pulled a bunch of deans and professors as witnesses," she said, adding that they seemed to be arguing a case to overturn the Columbia decision. After an extended hearing, the election was delayed to the fall. GSU spent the summer building more support for unionization.
But the graduate students were delayed again when the university filed a request for review and a motion to stay with the NLRB in September.
"The language in them is really striking," said Palmer. "They say we're basically nothing like Columbia's grad workers and try to draw distinctions between us.
The university argues in the request for review that, "Unlike Columbia, the record here demonstrates that there is absolutely no 'salient economic character' to the relationship between graduate student assistants and Chicago." The paragraph goes on to state that the students who teach or conduct research during their programs do so "for their own benefit" and that assistantships are not motivated by Chicago's 'business' considerations, but rather by educational concerns. The administration did not respond to requests for further comment.
According to students, however, the teaching, course design and research, the latter of which helps the university secure millions in grant funding, more than merits an employee status.
At the University of Pennsylvania, the graduate student organization GET-UP had a similarly challenging experience during its NLRB hearing, which ended in August. Since then, the graduate employees have been waiting for the decision that would permit them to hold an election. GET-UP members have been frustrated by the university's resistance during the entire process.
"For me at least, the faculty members that we know and we work with and see on a day-to-day basis, they do seem to truly value the work we do," said Olivia Harding, a second-year Ph.D. student in cell and molecular biology. "It's really up at the top levels of the administration where they refuse to acknowledge the real work."
Katie Rader, a third-year Ph.D. student in political science, recalled sitting in front of the NLRB listening to university administrators challenging GET-UP's petition for an election.
"They explicitly said we are not doing true work, the activities we engage in are for our own benefit only," she said. "It was disappointing in kind of a paternalistic attitude they have taken to our organization."
Graduate employees like Rader hope that with the support of AFT, the union will design an advocacy plan that serves the students' specific needs.
"Sometimes we look like workers and sometimes we look like students, but the both are entwined," said Rader. "And because of the work that we do, we should be able to form a union around those issues."
As the University of Pennsylvania's graduate students await the NLRB's decision, Rader says they have been cheering for Chicago's GSU, hoping to join them in unionization soon. The administration, however, is sticking to a familiar position.
"We view our graduate students as students and our future colleagues rather than employees, and believe we can better support them without the intervention of a labor union," a University of Pennsylvania spokesperson wrote in an email. "We are extremely proud of our graduate students' accomplishments, and we continually strive to improve their experience through a wide variety of initiatives, support systems and opportunities."
The university declined to provide further comment.
As the GSU at the University of Chicago looks toward drafting bylaws and electing representatives, they may face a new set of challenges. Just ask the graduate employee union at Columbia University, which is currently awaiting an NLRB decision regarding objections the university filed in March regarding the union's election.
"They're really hoping the new board will reverse the Columbia decision," said Olga Brudastova, a graduate student in Civil Engineering who assists with communications at the union. She explained that with the vacancies in the NLRB, President Trump's appointments may tilt the Board towards less union-friendly policies.
Columbia's graduate union released a statement that said, "there is a significant danger that new majority on the Board could overturn our historic decision in other pending cases on RA/TA unionization."
According to the statement from Columbia's graduate union, if the vacancies are filled and the University of Chicago files a request for review, the Columbia decision could be reversed for GSU's case.
On November 8, the anniversary of Trump's election, Columbia's union will rally on campus to push the university administration to respect the results of the graduate workers' election and recognize the union.
"We're trying to drive the point of Columbia relying on the new NLRB rather than respecting a democratic choice of their workers," said Brudastova.
But in Chicago, GSU organizers are cherishing their victory.
"People often say that graduate school is a profoundly isolating experience," said Chaz Lee. "I think that we often lose sight of the fact that we teach a lot of the same students and that our research contributes to the same institution and to its prestige and, really, what makes this university great."