At its 30th Anniversary Awards Gala on Monday evening, the Thurgood Marshall College Fund (TMCF) named Dr. Harry Williams as its new president and CEO.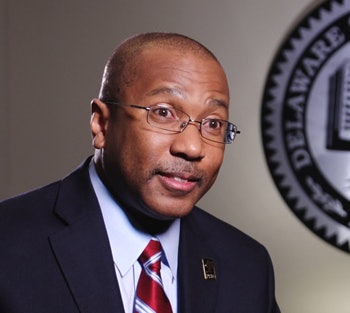 The announcement came with an Educational Leadership award for Williams, the current president of Delaware State University. Considering his successes during his 10 years at Delaware State, education scholars specializing in historically Black colleges and universities agree that Williams is more than qualified for the job. As he moves from overseeing a public HBCU to an organization that advocates for 47 publicly-supported institutions that serve primarily Black students, Williams expects his skills in building relationships to come even more to life at TMCF.
"I think it's a big loss for Delaware State University, and a huge gain for the Thurgood Marshall Scholarship Fund," said Dr. Jason DeSousa, an associate professor of higher education at Howard University. "I think his background in academic affairs will enhance academic innovation at our nation's PBIs and HBCUs"
Williams started at Delaware State in 2007 as the provost and vice president for academic affairs. He became president in 2009. During his tenure, enrollment at the HBCU reached record numbers, growing by over 22 percent. Williams expanded DSU's reputation locally and abroad, creating partnerships with Delaware high schools and satellite campuses as well as joint-degree programs across the world.
"The most important lesson I've learned at Delaware State is the power of relationships, and how those relationships can promote and benefit your organization," Williams said. He added that the connections he cultivated with organizations like the Gates Foundation and TheDream.US allowed the university to thrive, especially in fundraising.
"This is someone who's going to be leading TMCF that has on-the-ground experience at a public HBCU," said Dr. Felecia Commodore, an assistant professor of educational foundations and leadership at Old Dominion University. "He has first-hand experience with the challenges."
Commodore added that she was glad to see a smooth transition between leaders. "It's important that transitions can be smooth and not to take so long so the work can continue uninterrupted."
Williams will replace Johnny C. Taylor, Jr., who served as the President and CEO for seven years. Williams said he looks forward to continuing the successes of the TMCF.
"I think the biggest thing is to work with the team there," he said. "There's an incredible operation. They gotta get to know me, and I gotta get to know them."
Looking ahead, Dr. Robert Palmer, an associate professor of higher education at Howard University, hopes that leaders at organizations like the TMCF will help bridge divides within the HBCU domain, like those between private and public institutions.
"It would be nice to have a more seamless connection," he said.
But before Williams begins his new position in 2018, he hopes to cement the connections at DSU, a key member of the TMCF network. Williams has assured the administration and students that they will remain connected.
"I'm just going down the road," he said. "It's not a good-bye. It's see you later."