Intentional diversity, a culture of constant improvement and a staff committed to meeting the needs of students and helping them succeed propelled three California State University campuses into the top rankings of the Most Promising Places to Work in Student Affairs in 2019.
CSU Channel Islands, which made the list last year (the third time in a row) with vice president Dr. William Gregory Sawyer at the helm, repeats this year under the leadership of Dr. Richard Yao. Sawyer came out of retirement last year to serve as student affairs vice president at Sonoma State University, which also made the list, as well as California Polytechnic State University, San Luis Obispo under student affairs vice president Dr. Keith Humphrey.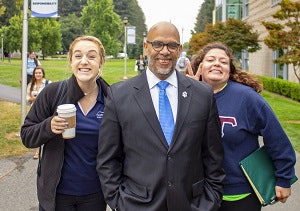 Although proud of their individual campuses' successes enhancing the student experience, all three administrators say they reflect a culture throughout the 23-school system, where the student affairs leaders collectively resemble a microcosm of the United Nations.
"CSU is diversity, equity and inclusion," says Sawyer. "It's who we are. We focus not just on making sure the students get in, but making sure they get out."
Sawyer's approach is informed by 36 years as a student affairs dean or administrator, including founding chief student affairs officer at Florida Gulf Coast University and founding vice president for student affairs at CSU Channel Islands, the system's newest campus that opened in 2002. He began his career in student affairs as a residence hall director at the University of North Texas, where he later worked as coordinator of intercultural services, assistant dean of students, associate dean and then dean.
The bevy of roles gave him a breadth and depth of knowledge and experience that compelled Sonoma president Dr. Judy K. Sakaki, a former colleague, to coax him out of retirement last April.
"My first day on the job, I said that in two years, we will be one of the most promising places to work in the nation," says Sawyer. "We have a lot to do, but when you have really good people to work with, that makes all the difference. It's a team effort."
His first step was to hold a two-day retreat where leadership of the more than 100 student affairs employees reevaluated everything. The result was going from two divisions to eight to improve efficiency of support programs and services for the campus' 9,500 students in all areas, from health services and disability resources to recreation and counseling and psychological services.
They also reviewed salaries, updated job descriptions, created and disseminated a staff resource guide and increased the number of staff members from underrepresented groups, Sawyer says.
"The difference in starting two departments from scratch as opposed to one existing one is the idea that we had to work together as a team and build a trust factor," he says. "People were in different areas doing good work, but I brought them together to change things so that the student is always the primary focus."
Sakaki has led a university-wide drive for excellence with strategic planning that includes student affairs as a co-curriculum partner at the table rather, says Sawyer, than an ancillary entity on the periphery.
Channel Islands
Dr. Richard Yao's background teaching at the college level and practicing as a clinical psychologist give him a different insight into student affairs at Channel Islands, a minority serving institution with nearly 7,100 students and a departmental staff of 78.
"It was a perfect fit for me," says Yao, who stepped into the position in June 2018 after serving as the founding dean of students at Nevada State College. "Identity development is grounded in psychology, so it was a beautiful marriage."
Yao's philosophical approach is that promoting students' academic development is top priority, followed by professional and psychological development.
"We want to make sure in student affairs that all of our programming is directly connected to the academic mission of the university," he says. "We tie everything we do to impacting and improving student retention, persistence and graduation."
The same rigor in academics ought to be applied in student affairs, such as use of data to evaluate programs and create innovative strategies, he contends.
Embracing the varied life experiences of students, many of whom are first-generation and from historically underrepresented groups, is a more effective approach to student success than the deficit model that prevailed for so long, adds Yao.
"We've truly embraced their narrative and their life experiences and really embedded that into our institutional identity," he says.
That's done through a scholarly approach that starts at the top, he says, and has led to enhancements such as revamped student assistant training, workshops on equity gaps, identification and elimination of systemic barriers to student success, and focus on building into programming the nurture of non-academic skills and non-cognitive predictors of success ranging from grit to self-efficacy, says Yao.
"It helps with grades and retention," he says. "We hold everybody accountable in moving the needle for student success. We take a scholarly and theoretical approach to our work, even with student assistants. Student affairs is often reliant on self-report to gauge success, but we look closely at data and analysis and incorporate more direct measures."
The division is always looking for how to beef up services, with improved peer training, partnerships with academic faculty and enhanced support for gateway programs, male students of color and DACA recipients on the horizon, says Yao.
A gateway program for low-income, first-generation college students is what introduced Hannah Dineley to the university.
Dineley was raised in Ventura County by blue-collar parents. Her mother needed her to attend a school close to home, and Dineley was intrigued by a public four-year university with a "private school feel" right there in the county.
"I was able to get the extra help through the Educational Opportunity Program," she says. "I really got into my education and wanted upward mobility for myself."
Dineley liked the program so much that she served as a peer mentor in it every year. The experience turned her interest in education toward student affairs in higher education.
Now, as she completes a master's degree in educational leadership in higher education at the university, she's a graduate assistant in the campus life department of student affairs, where she works in Wellness Promotion & Education aiding food-insecure students through the Dolphin Pantry.
Dineley was active in Future Farmers of America in high school, where she found herself able to buy better quality food in college thanks to financial aid, and she worked at an organic vegetable farm in North Carolina prior to returning to CSU.
Since then, she has combined her passion for agriculture and education by reviving the Dolphin Pantry, which now has refrigerators and freezers that allow the on-campus facility to provide perishable food items; collaborating with a nearby food bank to collect everything her team can fit in a truck one hour a week and bring back to campus; passing information along to a biology professor that recently led to a $3,000 grant for a campus garden that will provide fresh produce for the pantry; harvesting lemons from some of the many trees on campus for the pantry; and writing her master's thesis on food insecurity.
Now open eight hours a day from Monday through Friday, the Dolphin Pantry saw more than 3,000 visits by students last fall – more than twice the 1,400 visits in fall 2017. Advertising and social media are used to raise awareness.
Jazz music plays in the pantry while students select from attractively displayed items, says Dineley, who has worked in catering and hospitality.
"Presentation and treating visitors' right and making them feel good is important," she says. "I've noticed a good response with students who are sometimes shy or embarrassed to come in.
Cal Poly
With nearly 21,800 students and a student affairs staff of about 550, there's no shortage of student needs that require attention.
And Dr. Keith Humphrey, who has been vice president of student affairs there for 17 years, sticks with an approach that he's found successful.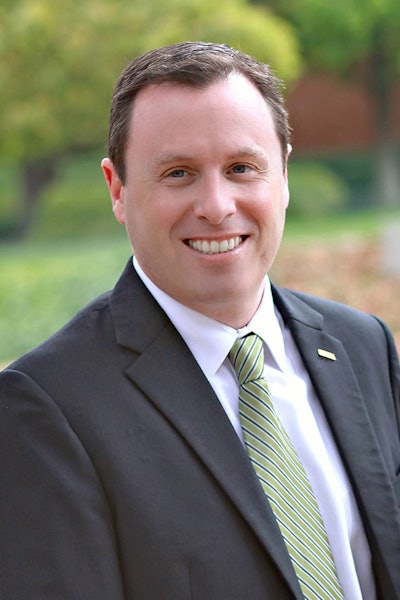 "I think part of my role as the vice president is to create the conditions so that my team can do their best work for students and bring their best selves to showing up for our students," he says.
Knowledge, values and professional development around diversity are important to "creating a sense of belonging for every student," says Humphrey. "We try to create programs and experiences that help every member of the community feel valued so that they matriculate and graduate. We believe that higher education is one of the biggest social justice issues of our time."
Toward that end, he says, significant time and energy are spent on helping build internal capacity among staff, particularly around diversity and inclusion.
The role of assistant vice president for student diversity and inclusion was added a little over a year ago to emphasize the importance of helping students learn "ways of meaning-making in the world that are different from their own," says Humphrey.
The Cal Poly Cares fund devotes upwards of $1.5 million to helping address student concerns in areas ranging from hunger to medical support – removing barriers that cause many students to leave school and never return.
There's a special emphasis on acclimating new students to campus, and all freshmen and most sophomores live on campus – a deliberate effort to help foster community and ensure students are in close proximity to support services.
Need-based housing grants are available, Humphrey adds, and the campus is looking to add 6,000 additional beds to help students concerned about high-priced off-campus lodging.
Humphrey describes himself as a snow plow that likes clearing obstacles from the paths of his staff and students.
"One of our core values is excellence through continuous improvement," he says. "We do not rest with anything. We are never satisfied. Our students deserve that."
Andrene K. Kaiwi was a nontraditional student who transferred into Cal Poly older than the average student and a first-generation coed. After many positive experiences with mentors in student affairs who were "helpful and approachable and sensitive to my situation," she switched her major from interior design and now directs an orientation program that she once participated in.
"I wanted to help other students transition to campus," says Kaiwi, who is in her 25th year working in student affairs and has a master's degree in education with an emphasis on counseling and guidance for higher education.
In addition to student onboarding, she coordinates leadership development programs for students. Administration support in her ever-changing field fosters an exciting environment, says the self-described lifelong learner.
"The students really keep me coming back and keep it fun for me," she says. "We're not just developing leaders, but learning from those leaders."
LaMont Jones can be reached at [email protected]. You can follow him on Twitter @DrLaMontJones
This article appeared in the March 7, 2019 edition of Diverse.