For science, technology, engineering and mathematics (STEM) community college students, the National Aeronautics and Space Administration (NASA) offers a chance to experience STEM careers first-hand.
Under their National Community College Aerospace Scholars (NCAS) program, students take a free five-week online course consisting of discussions with NASA employees, quizzes, as well as the completion of our assignments.
The program aims to encourage students to finish their two-year degrees or transfer to a four-year institution and pursue a NASA-related career or field, according to their website.
"It's a great opportunity to help strengthen their understanding and helps enable them to make powerful connections with the NASA mission in the work that NASA does and the people at NASA," said Dr. Winsome Brooks, activity coordinator for NASA Johnson Space Center. "It's a good stepping stone for anyone that wants to pursue a STEM related career."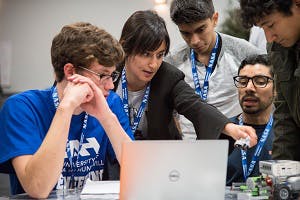 To apply to the program, eligible students must be over the age of 18, hold a high school graduate or equivalent, be enrolled in a community college and remain available to fully complete the five-week course. Additionally, students are required to write an essay about their goal for the program and provide a recommendation letter from a professor.
For those selected students who demonstrate academic success during the online course, they are given the opportunity to visit a NASA center for four days.
Last year, there were 1,300 students who participated in the online class. For the onsite portion, 892 students from 227 community colleges within 39 states were selected, according to Alex Gladney-Lemon, education coordinator for NASA's Office of STEM Engagement.
"A lot of them feel as though they are not as talented or as good as their fellow college students at a four-year university and we want to show them that that is not true and that self-doubt that they have needs to be removed," he said. "We try to do that through showing that many of our NASA employees have taken many weird and windy paths to get here."
During their visit, students are given the opportunity to network with NASA employees, learn about the various facilities, work on their resumes and participate in a robotics design challenge. At the end of the program, many of the participants earn internships through NASA and some are hired into full-time jobs.
The program is funded by the Minority Undergraduate Research and Education Project (MUREP).
Additionally, NASA has focused on recruiting students into the program from minority-serving institutions (MSIs).
According to the National Center for Science and Engineering Statistics (NCSES), while over a third of Black, Latinx and Native American students enter college with an interest in studying STEM, only 16 percent actually obtain bachelor's degrees in these fields.
Gladney-Lemon said the organization wants MSI students to "know that there is a spot for them at NASA as well."
NCAS has been around for almost 15 years, starting as solely a Texas event. Eventually, it began to include the rest of the United States. In the last three years, the program has expanded and now uses all 10 of NASA's centers.
Through participating in this program, students gain confidence, said Gladney-Lemon.
"Those that come to the onsite gain a big boost of confidence working with like-minded individuals, seeing all the different people that we have at NASA, that are approachable, that are real and that have the same stories as them," he said. "They struggled to get here but they got here. The confidence that they have in themselves and what they can accomplish goes up astronomically."
Sarah Wood can be reached at swood@diverseeducation.com.