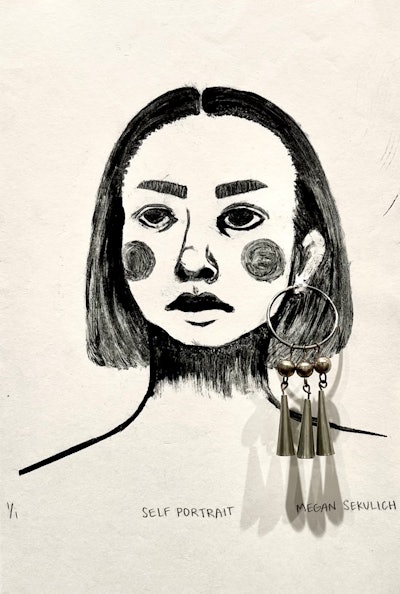 As a freshman, Megan Sekulich, today a senior at the Miami University in Ohio, first learned the name of the Midwestern pawpaw tree in her Myaamia tribal language. The tree is called ahsiimišaahkwi in Myaamia, and Sekulich soon found out in her botany class that its scientific name is asimina triloba.
"I asked my professor where the name came from, and she said that a Native American tribe in the Midwest had called the tree something similar," said Sekulich, who is a member of the Miami Tribe of Oklahoma. "I said to her my tribe, that was my tribe! I got so excited."
But growing up north of Chicago, Sekulich often felt removed from her Myaamia heritage. Miami University was not her first choice college, yet her older cousin, who is also Myaamia, told her to look into the school's Myaamia Heritage Award Program. Sekulich's cousin was a part of the program and spoke highly of it.
"I came into the program not comfortable at all with my Native American identity," said Sekulich, who is today 21 years old. "I didn't even tell a lot of people in high school that I got a Native American scholarship. I felt like I just looked like a white girl with no knowledge about our culture. But coming here, being immersed in a Myaamia community and classes, has made me more confident in my own identity—and in declaring this part of my identity."
Through a unique partnership between the Miami Tribe of Oklahoma and Miami University, the Myaamia Heritage Award Program covers four years of tuition and fees for students who are part of the Miami Tribe. But the program, which started in 1991 with three students, today offers more than just financial support alone to its 38 currently enrolled students.
"In the early years, it was very difficult to get people to come to Miami University—to the point where the Chief would call people he knew and ask them to come," said Kara Strass, director of Miami Tribe Relations at the Myaamia Center at Miami University as well as a citizen of the Miami Tribe. "And there was not much here for them when they came. They didn't really have a community, so the program was not especially successful."
About 44% of Myaamia students at that time graduated within six years from Miami University. That was just slightly higher than the national average six-year graduation rate among Native American students, which continues to hover around 40%. But since roughly 2001, things have turned around.
That's when the Myaamia Center at Miami University formed under the leadership of Daryl Baldwin, the executive director of the center and a citizen of the Miami Tribe. He began hiring more Myaamia staff and focusing on the needs of the Miami Tribe. Baldwin and his team, as well as Miami University partners, started to build more community support for Myaamia students on campus.
In addition, Myaamia students in their senior year create an independent study project that connects what they learned in their Myaamia heritage courses with their major or minor.
Today, about 92% of Myaamia students at Miami University now graduate within six years. Such efforts have made the program a national model for those seeking to boost Native American enrollment and retention rates.
"Our program is very unique in a lot of ways," said Strass. "There is this relationship between a single tribal nation and a university, which means we focus specifically on Myaamia culture, language, and community in a way that other institutions aren't able to do. That has informed our practice."
As a freshman, Sekulich learned about the Myaamia word for pawpaw tree through this program in a course she took on Myaamia ecological perspectives. Today, as an art student, Sekulich said that her creative work continues to be informed by her Myaamia connections.
As more universities launch tuition waiver initiatives for Native American students, this program highlights the importance of cultural affirmation work as well, starting with not seeing all Native American students as the same and making sure tribal leaders have a seat at the table.
"We've continued to see year-over-year increased enrollment in our program, including during the pandemic," said Dr. Haley Shea, education psychology professor and research assistant at the Myaamia Center as well as a member of the Miami Tribe and a graduate of the program. "I truly believe that the community benefit is what promotes student success."
Dr. Robin Starr Zape-tah-hol-ah Minthorn, an associate professor of educational leadership at the University of Washington Tacoma, researches Indigenous leadership in higher education and campus climates for Native American college students. She had additional advice for university leaders looking to improve their support for Native students.
"If a campus doesn't know where to start, then reach out to your local tribes and ask for help," said Minthorn. "If you have a strong desire to do a better job, then don't live in the not-knowing. There are resources and Native American higher education scholars out there. Because we can't live in the unknown."
Rebecca Kelliher can be reached at [email protected].