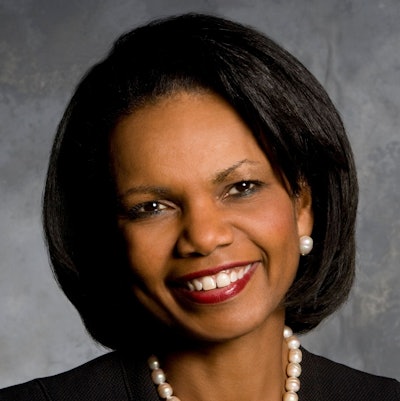 Title: Professor of Political Economy , Graduate School of Business Stanford University
Known the world over, Dr. Condoleezza Rice is a professor of political economy in the Graduate School of Business, the Thomas and Barbara Stephenson Senior Fellow on Public Policy at the Hoover Institution and a professor of political science at Stanford University. She is also a founding partner of RiceHadleyGates, an international strategic consulting firm based in Silicon Valley and Washington, DC.
From January 2005-2009, Rice served as the 66th secretary of state of the United States, the second woman and first African-American woman to hold the post. Rice also served as President George W. Bush's national security adviser from January 2001-2005, the first woman to hold the position.
Rice served as Stanford University's provost from 1993-1999, during which time she was the institution's chief budget and academic officer. As provost, she was responsible for a $1.5 billion annual budget and the academic program involving 1,400 faculty members and 14,000 students. In 1997, she also served on the Federal Advisory Committee on Gender-Integrated Training in the military.
As professor of political science, Rice has been on the Stanford faculty since 1981 and has won two of the highest teaching honors — the 1984 Walter J. Gores Award for Excellence in Teaching and the 1993 School of Humanities and Sciences Dean's Award for Distinguished Teaching.
She has authored and co-authored numerous books, including two bestsellers. Rice is a fellow of the American Academy of Arts and Sciences and has been awarded 10 honorary doctorates. Born in Birmingham, Ala., Rice earned her bachelor's degree in political science, cum laude and Phi Beta Kappa, from the University of Denver, her master's from the University of Notre Dame and her Ph.D. from the Graduate School of International Studies at the University of Denver.