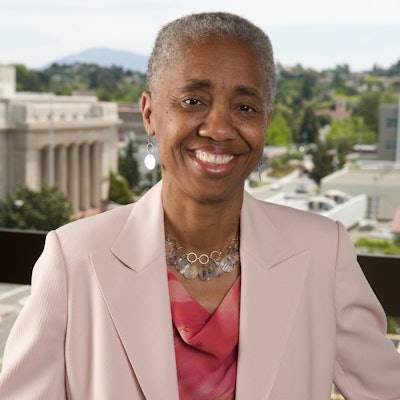 Title: Chancellor Contra Costa Community College District
In her eighth year as chancellor of the Contra Costa Community College District, Dr. Helen Benjamin is making a difference. She began her career in the district in 1990 when she joined Los Medanos College as dean of language arts and humanistic studies and related occupations, and has held progressively higher level positions including district vice chancellor of educational programs and services, interim president of Los Medanos College and president of Contra Costa College.
Headquartered in Martinez, California, the district was the first county-wide college district in the state, and began serving students in 1949. The district consists of Contra Costa College, Diablo Valley College, Los Medanos College, San Ramon Campus and the Brentwood Center. With a county population of more than 1 million people, the district serves an annual enrollment of nearly 62,000 students.
Benjamin has a bachelor's degree in English and Spanish from Bishop College in Texas, where she graduated magna cum laude, and she earned her master's and doctoral degrees from Texas Woman's University in Denton, Texas.
She is active in a variety of professional and community organizations, especially those that contribute to student success. Benjamin is a board member of the Contra Costa Council, a board member of the Chief Executive Officers of the California Community Colleges and serves on the Kennedy-King Scholarship Memorial College Scholarship Fund, a countywide effort to provide district students financial support to continue their education at a four-year or graduate institution.
At the national level, she is the convener of the Presidents' Round Table, an affiliate organization of the National Council on Black American Affairs, and co-chair of the Congressional Advisory Committee on Student Financial Assistance. In addition, she serves on the board of Excelsior College located in Albany, N.Y.