Three employees from Grace College & Seminary were fired after a photo of them posing as "rappers" with a fake album cover background went viral earlier this month amid allegations of White privilege and cultural appropriation.
The photo was taken as part of a "wrap day" in the marketing department, which participates in themed days each Friday during the summer at the evangelical Christian institution located in Indiana.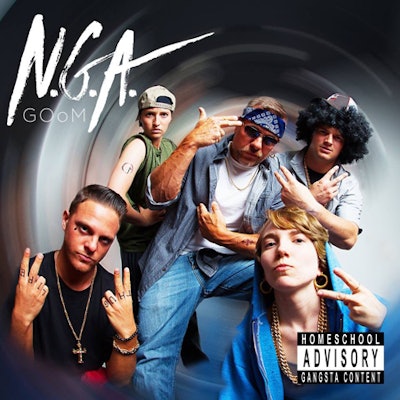 Marketing employees dressed up like rappers, ate wraps for lunch, listened to rap music and took photos of themselves in their outfits.
"[We] thought it would be funny to parody the Grace College culture by making a fake rap album," said Evan Kilgore, who was terminated from his job as an admissions counselor.
Kilgore, 23, graduated from the college in 2016 and served as Student Government Association president.
The photograph included the acronym "N.G.A." in the top left corner, which is claimed to stand for "Not Grace Appropriate".
The photo also depicts one man wearing an Afro while another showed off a fake tattoo and backward baseball cap. Kilgore showed his knuckles with the phrase "thug life" along with a teardrop tattoo on his right check, and four out of the five individuals flashed gang signs.
The picture was posted earlier this month on one of the individual's personal Facebook page. Kilgore said it initially got some good reactions, and the dean of students even liked the photo. He said that after several African-American students commented that it was offensive, he took it down minutes after the criticisms were posted.
However, Kilgore said that the picture was screenshotted and reposted by an alumnus, who called the photo an example of White privilege and called out the institution. Three days after the photo was initially published, three of the five people in the picture were fired from Grace and the president, Dr. Bill Katip, released a statement to the public.
"It is important for the public to know that Grace College is committed deeply to diversity and inclusiveness, and conduct that demonstrates insensitivity to these values will not be tolerated," said Katip. "Grace leadership has taken steps to ensure that this sort of incident will not recur, and several of the individuals involved are no longer employees of Grace College."
Katip continued: "This incident has initiated a reexamination of the policies and training at Grace related to diversity and inclusion. While we strive to create a welcoming environment, it is apparent that we can and must do more to help ensure people of all backgrounds are treated with respect and feel welcomed on our campus," he said.
"These ongoing efforts will start immediately and will include the input and participation of current students, faculty and staff, alumni, board members and other thought leaders on diversity."
Of the five individuals in the photograph, two still have their jobs at Grace. Kilgore said that the college has engaged in unequal treatment by firing him and allowing the others to maintain employment.
He said that he does not believe that the photo was racially insensitive.
"It's a parody of images typically seen in popular rap culture, which isn't race specific, and was taken completely out of the intended context to be applied to a specific culture and something it was not intended to be," he told Diverse.
Kilgore said that he has kept in touch with his former colleagues who have been encouraging throughout this ordeal. Currently, he resides in Ohio with his family and is searching for a new job.
A petition on Change.org titled "Support the Grace College Marketing Team" was created to raise awareness about the firing. So far, more than 250 individuals have signed the petition.
"I love that people are using their voice in such a respective manner to call for the changes they want to see and expressing their concerns so kindly," Kilgore said via Facebook messenger. He declined to say whether he is planning to file a lawsuit against the college.
Monica Levitan can be reached at [email protected]. You can follow her on Twitter @monlevy_