Two law schools, the UC Hastings College of the Law and the T. C. Williams School of Law at the University of Richmond, will be undergoing name changes, ridding themselves of the problematic figures in their names.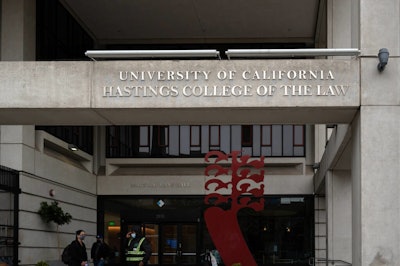 UC Hastings College of the Law will be renamed next year, becoming UC College of the Law, San Francisco (UC Law SF), the San Francisco Chronicle reported.
"Although the effective date of the new name is January 1, I have not yet made a decision as to the exact date when we will "go live" on the new name," said David Faigman, Hastings Law chancellor and dean. "I want to initially confirm that we have ample time and resources for us to make all of the above changes and will communicate accordingly throughout this semester. That said, the switch will likely happen sometime in 2023. Suffice it to say, a campus celebration will be in order to mark that moment. Until then, we remain UC Hastings."
Serranus Clinton Hastings, the school's founder and former chief justice of the California Supreme Court, sponsored massacres of thousands of Native people, including ancestors of Round Valley and Yuki tribes.
The name change came as a result of state bill AB1936, which changes the name, establishes "restorative justice" programs for the tribes, requires a formal apology from the school to the tribes, and includes support for Native students who want to study law. California Gov. Gavin Newsom signed the bill into law Friday.
Not all tribal descendants were satisfied with the new name as well.
"On one hand, removing a murderer's name from the school is a good thing, but 'San Francisco' isn't appropriate either, since it doesn't give the Yukis any justice," said Steve Brown, president of the Round Valley Yuki Committee, instead arguing for the name "Powe' N'om," meaning "one people."
Meanwhile, the University of Richmond is removing T.C. Williams from its law school's name, opting to instead go by the University of Richmond School of Law, ABC 8 News reported.
Williams owned a tobacco business and enslaved dozens of people to work for the business and serve him personally.
UR's announcement came just after 5 p.m. on Sept. 23. The change came via a unanimous vote from UR's Board of Trustees.