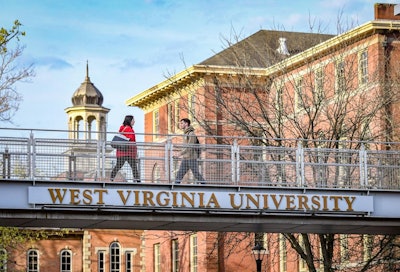 A bill allowing people to carry concealed weapons at public college campuses in West Virginia passed by a landslide in the state's House of Delegates Feb. 21, NPR reported.
This move sends the bill to West Virginia Gov. Jim Justice, who has not made any public indication of whether he will sign it into law. As it stands now, the state prohibits carrying guns on public college and university campuses.
The Campus Self-Defense Act – passed 29-4 in the state's Senate chamber and 84-13 in the House – allows people with concealed-carry permits to have pistols or revolvers on campuses starting Jul. 2024 but prohibits open carry of guns on public college campuses and does not allow guns in high-capacity areas like stadiums.
Higher ed leaders in the state have shown reluctancy and opposition to this legislation.
"We believe that our boards of governors are best suited to decide whether guns should be permitted on campus," reads a January letter from the presidents of West Virginia University and Marshall University. "We therefore do not support statewide campus carry."
And the presidents of West Virginia State University, Concord University, and Shepherd University expressed support for the Second Amendment but also reservations about public safety challenges.
"Introducing firearms into this already challenging environment could have unintended consequences," they wrote in a separate letter, referencing increased suicide rates and concern that the presence of firearms could stifle free exchange of ideas.
Marshall professor and former Marine Corps infantryman Chris White said the bill does not have enough safety measures.
Similar legislation exists in 11 other states: Arkansas, Colorado, Georgia, Idaho, Kansas, Mississippi, Oregon, Tennessee, Texas, Utah and Wisconsin.