Here's a hypothetical scenario: A low-income student qualifies for the Pell Grant but for not the maximum amount. Her parents contribute some money toward her tuition, recorded as Estimated Family Contribution on the student's federal financial aid application form.
Then COVID-19 hits. Both parents lose their jobs. But the student's financial aid package remains the same, despite the drastic change in her family's finances, a result of the "prior prior year" policy, designed to make the FAFSA simpler by using earlier information provided by the student.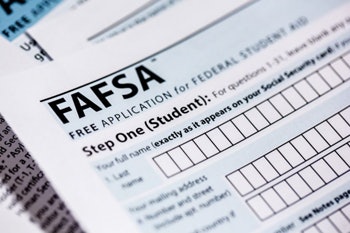 There's a mechanism to work around this problem called professional judgement. A brief released on Thursday by The Education Trust, a nonprofit focused on education opportunity gaps, highlights its power – and current limits – as a tool for racial equity.
Professional judgement allows a financial aid officer to review a new situation – like a student's loss of income or an unexpected medical expense – and accordingly adjust the data used to calculate Expected Family Contribution or the elements that add up to cost of attendance for an updated financial aid package. As a result, students can receive financial aid that better reflects their real-time needs.
"This is a moment where financial resources are more important than ever as so many students and families are struggling as a result of the economic crisis caused by COVID-19," said Dr. Tiffany Jones, senior director of higher education policy at The Education Trust. "Obviously, students from low-income families, Black and Brown students, struggled to afford college prior to the crisis but even more so now that we're in the throws of it. And what it also means is a lot of sudden changes in their financial situation and standing."
Previously, financial aid offices have been reticent to use professional judgement because the U.S. Department of Education flags it as a reason for audits. But this summer, the department issued new guidance assuring colleges that they wouldn't be audited for the practice this academic year.
There's now been a marked increase in professional judgement requests, according to a September 2020 survey by the National Association of Student Financial Aid Administrators (NASFAA). And those are only the students who even know this is a path available to them, pointed out Jaime Ramirez-Mendoza, a higher education policy analyst at The Education Trust.
"Unfortunately, many students, particularly Black and Latino students who are more likely to be first in their families to attend college and may have parents who don't know the ropes, are more likely to be unaware that appealing for more aid is even an option," he said.
Ramirez-Mendoza knows from personal experience. He didn't realize it was possible to revisit the specifics of a financial aid package until he was a graduating senior.
"Being a first-generation student, being the first in my family to go to college, coming from a low-income background, I worked in holistic advising for students in college, and that included financial aid," he said. "And I had no idea – even after training for financial aid – that you can appeal your financial aid package, nor what that process even looked like."
That process looks different depending on the college. Among its limitations, the professional judgement procedure varies by school and relies heavily on the personal discretion of individual financial aid officers with no standard across institutions. The brief notes that this leaves room for implicit bias, especially given the results of the NASFAA survey. It found that 66% of respondents said their financial aid offices didn't plan on diversifying their appeals committee, whereas about 37% of financial aid offices reported they were reviewing professional judgment policies for potential bias.
Another barrier is that professional judgement is only useful to the extent that institutions actually have the resources to offer more financial aid.
"Black and Latino students are disproportionately more likely to attend underfunded institutions, and such institutions have less support to give," Ramirez-Mendoza said.
Nonetheless, he thinks professional judgement is a "very powerful tool." And the brief ends with recommendations to institutions and policymakers to help make the process more accessible and transparent.
Jones emphasized that the first step is to collect more data on professional judgement requests and decisions, disaggregated by race and ethnicity, as well as data on the diversity of financial aid officers.
"Without that data, it leaves room for inequity," she said.
The brief suggests financial aid offices also offer racial justice training to their staff, create student advisory boards and transfer Federal Work-Study funds into emergency Federal Supplemental Educational Opportunity Grants.
For Ramirez-Mendoza, approaching professional judgement with a racial equity lens isn't just about getting underrepresented students the funds they need as their financial circumstances change. It's also about making sure they graduate.
"Given the already high cost of college, combined with the economic devastation caused by COVID-19 – with a disproportionate impact on Black and Latino households – this could be the difference between finishing their degree or becoming one of the 36 million students who start college and drop out," he said.
Sara Weissman can be reached at sweissman@diverseeducation.com.