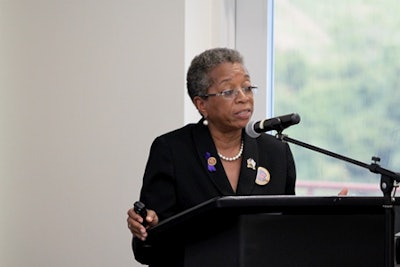 St. Thomas, U.S. Virgin Islands — As the lone Democratic congressional leader from the Virgin Islands, Dr. Donna Christensen has had her share of public frustrations.
"Many people think that being Black and being a woman is the biggest obstacle that I face in Congress," said Christensen, who is a trained medical doctor and has represented the Virgin Islands territory on Capitol Hill since 1996. "But representing the territory has been the biggest problem because many of my colleagues in Congress don't see the territory as being entitled to the same rights the states are entitled to."
Christensen is working around the clock to push through an energy bill that would help provide relief to the Islands where energy costs are 500 percent higher than the national average, a financial impediment that is "unsustainable and crippling to the economy and the health and safety of the community."
But like Washington, D.C.'s Delegate Eleanor Holmes Norton, Christensen is a non-voting member of Congress who is forced to establish strategic alliances with congressional members on both sides of the aisle to help her secure federal funding for the Islands, including money for the University of the Virgin Islands (UVI) — a land-grant historically Black college and university founded in 1962.
"I really have to work and develop relationships," she said, adding that members of the Congressional Black Caucus (CBC) have been her biggest allies in helping to keep the issues of the Islands at the forefront of the nation's legislative agenda. "I'm really fortunate to have the CBC because it forms my delegation and supports me on everything I want to do for the Virgin Islands."
An assistant minority whip in the Democratic Caucus, Christensen chairs the CBC's Health Braintrust, which oversees and advocates for minority health issues nationally and internationally. She has recently turned her attention to the plight of Black boys, working collaboratively with U.S. Rep. Frederica Wilson, D-Fla. and other CBC members to help curtail the high school and college dropout rate of so many young African-American men across the U.S. and in the Islands.
Last week, Christensen spoke to a group of scholars who gathered at UVI in St. Thomas for the second annual international colloquium on Black males in education, sponsored by Wisconsin's Equity and Inclusion (WEI) Laboratory and headed by Dr. Jerlando F.L. Jackson, the Vilas distinguished professor of higher education at the University of Wisconsin-Madison. WEI is largely focused on highlighting successful program outcomes that offer solutions aimed at solving the series of problems that confront Black males in education.
"I've just always been passionate about this issue," Christensen, 68, said in an interview with Diverse after her speech at the colloquium. "It's important to see what can happen when we take the time to mentor and be there for our boys."
Christensen's entry into politics was anything but traditional.
A graduate of George Washington University's Medical School, she completed her residency at Howard University's medical center and began her medical career in the Virgin Islands in 1975 as an emergency room physician. She later became medical director at St. Croix Hospital. In 1993, she was appointed commissioner of health for the Virgin Islands and three years later, was elected to the House of Representatives.
Even though the Virgin Islands has long been a destination spot for tourists, the day-to-day challenges facing its residents — particularly young Black men — are daunting.
"Thirty percent of all children live in poverty," said Christensen, who pointed out that in 2010, nearly 62 percent of Black male 11th-graders on the Islands scored below the expected proficiency level on the reading exam.
Despite the lack of government funding to respond to these issues, Christensen said that she's encouraged by the work that is being done to address the plight of Black males.
"We only have to nurture and provide stimulus for these young men so that they can realize their full potential," she said. "I have faith in them and their ability to succeed."
Jamal Watson can be reached at jwatson1@diverseeducation.com.