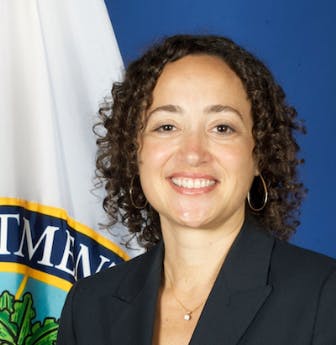 Much attention has been brought to bear of late regarding the decline in the number of college students majoring in STEM disciplines. This decline is particularly acute among minority students, raising concerns that large numbers of such students will be shut out of rapidly growing sectors of the economy.
To address this issue, education stakeholders convened at the Symposium on Advancing Equity through More and Better STEM Learning at the National Academy of Sciences in Washington, D.C. yesterday. In her keynote, Catherine Lhamon, assistant secretary for civil rights at the U.S. Department of Education, pointed to problems in the public school system. While strides have been made with regards to equality, some schools, as Lhamon put it, have failed to live up "to the promise of Brown."
To remedy an unequal system, Lhamon noted that the U.S. Department of Education is pushing for continuing funding for Race to the Top, a program that works to improve schools and incentivizes innovation and reform.
"It's so enormously gratifying to me to make the change that we've been able to make, but it's distressing to me that we still need to be fighting so many of the same fights, that we still need to be having so many of the same conversations," said Lhamon. She gave examples of public schools struggling to provide adequate and equal educational opportunities to students.
Lhamon described a high school in Alabama with a 90 percent Black student body that, until three years ago, never offered an advanced placement course. Neighboring high schools, with Whiter student bodies, did. Despite this disparity, the district achieved unitary status, which indicates that desegregation has been achieved.
To combat such inequality, Lhamon urged one and all to familiarize themselves with the data, pointing to the U.S. Department of Education's Civil Rights Data Collection website, Ocrdata.ed.gov, as a resource for parents, students, teachers and administrators.
"What we know to be true is what Thomas Jefferson famously said, which is, 'The price of liberty is eternal vigilance.' We do need to be eternally vigilant on this topic, so that all of our kids can have that access," said Lhamon.
In the first panel following Lhamon's keynote, David Coleman, president and CEO of the College Board, emphasized that the U.S. is falling behind due to methodology. "In kindergarten through second grade, the shared standards of the highest performing countries in the world focus on three, and only three, topics: That is, the addition and subtraction of whole numbers and the quantities they measure. I tell you this because typical U.S. curricula will spend 60 to 80 percent of their time outside of this core," said Coleman.
"The evidence is now clear that we should abandon a mile-wide, inch-deep approach to mathematics," said Coleman. "The fact is around this much more focused core, you need a command of the arithmetic in the sense of understanding your math facts and having great fluency, but also application and understanding."
Yet according to Richard Tapia, director of the Center on Excellence and Equity at Rice University, challenges still remain once students arrive at college or go on to pursue a master's or a doctorate. "Yesterday's racism was simple. It was denied access. What is today's racism at research universities? Lower expectations for minorities," said Tapia. Lower expectations, which are the result of a failing system.