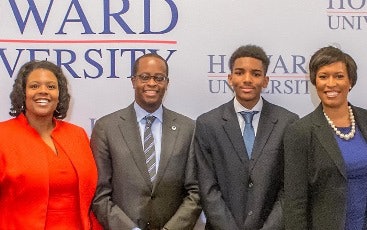 Howard University has launched a partnership with Washington, D.C., public schools that not only aims to deepen the school's longstanding relationship with the city but also will provide advanced college preparation for local high school students.
Earlier this month, District of Columbia and university officials announced a dual enrollment program that will enable students from two District high schools to enroll in Howard University courses for free and earn high school and college credit. The new program takes effect this fall, and qualified 12th-grade students at Benjamin Banneker and McKinley Technology high schools are eligible to participate.
"Today, we take that (Howard-D.C. relationship) to new heights [with] a dual enrollment partnership that will expose students from two DCPS (District of Columbia Public Schools) high schools to college coursework and culture," said Howard University president Wayne A.I. Frederick at a campus news conference.
"Since 1867, Howard University has educated generations of scholars who graduated from D.C. public schools," he said, alluding to such Washington, D.C., natives as the late Edward Brooke, the first and only African-American to represent Massachusetts in the U.S. Senate, and former D.C. Mayor Sharon Pratt.
"I am proud to deepen our relationship through the dual enrollment partnership. Through this program, we are aiming to inspire and develop the next generation of leaders and innovators from right here in the District," said Frederick, who was joined by D.C. Mayor Muriel Bowser and DCPS chancellor Kaya Henderson during the announcement.
To qualify for the dual enrollment program, students are required to have a minimum 3.0 GPA; they must also submit a personal essay and a recommendation letter from their principal or counselor. Qualified students will be able to take up to two undergraduate courses per semester and one course during the summer session. Howard University is waiving all tuition and fees; the D.C. Office of the State Superintendent of Education will cover the cost of books and transportation.
College credits earned during the program can be applied to a degree program at the university or transferred to another four-year college or university. "Of course, we will be delighted if (their college) choice is Howard University," Frederick said of expected participants.
"This is an amazing opportunity for our young people both at McKinley Technology and at Banneker to literally change the scope of their education," Henderson said.
Dr. Melinda Mechur Karp, the assistant director for staff and institutional development at the Community College Research Center at Columbia University's Teachers College, said development of dual enrollment programs largely represents a movement aimed at boosting equity and college access for socially and economically disadvantaged students.
"In general, I think it's safe to say that dual enrollment is growing rapidly around the country. That growth is driven mostly in the public sector, but certainly private institutions are involved as well," she explained.
"Dual enrollment isn't just for the very elite and in fact is an effective (college) access and completion strategy for a broad range of students. The research demonstrates that," said Karp, who is a national expert on dual enrollment programs.
"What we typically find (in the research) is that dual enrollment benefits students in a multitude of ways down the line. Students, as compared to similar students who don't take dual enrollment, tend to graduate from high school at greater rates, tend to go to college at greater rates, and they graduate (from college) more quickly and more often," she added.
Karp notes that minority-serving institutions, such as Howard, have primarily developed dual enrollment programs with the aim of increasing equity and college access opportunities for disadvantaged students.
D.C. officials say they plan to expand the dual enrollment program to all District high schools over the next three years through partnerships with other local universities. DCPS currently offers programs through partnerships with the University of the District of Columbia and George Washington University.