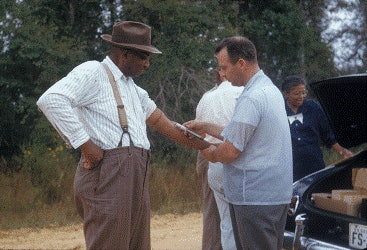 When the infamous Tuskegee syphilis experiment—a long-running deadly and unethical federal study of untreated syphilis among hundreds of poor, Black men in Tuskegee, Ala.—was finally brought to light, it led similarly situated Black men to distrust the medical establishment to the point where they sought less medical care and likely died earlier as a result.
Such are the findings of a new study that seeks to show the aftermath of the revelation of the experiment, formally known as the Tuskegee Study of Untreated Syphilis in the Negro Male.
The experiment, which the study describes as "one of the most egregious examples of medical exploitation in U.S. history," was conducted by the U.S. Public Health Service from 1932 through 1972, when its existence was exposed by a journalist.
Although treatments, such as penicillin, had become available during the course of the study, the study's "participants" were denied such treatment and actively discouraged from seeking medical advice from other practitioners, the study states.
The men were told they had "bad blood" for which they believed they were being treated, according to the study. To induce participation in the experiment, the men—many of them poor sharecroppers—were given hot meals, the "guise of treatment," and burial payments.
"Our estimates indicate that the years following disclosure of the study's tactics brought significantly lower utilization of both outpatient and inpatient medical care by older black men in closer geographic and cultural proximity to the study's subjects," wrote the authors of the study released last month, Tuskegee and the Health of Black Men. "This reduction in healthcare utilization paralleled a significant increase in the probability that such men died before the age of 75."
Marcella Alsan, assistant professor of medicine at Stanford University and co-author of the study, said the study's findings have implications for the health of Black men that continue to this day.
"Historical episodes of medical exploitation can have important impacts on health beliefs and behaviors, particularly for those who most readily identify with the exploited group," Alsan told Diverse.
Trust is essential, her study says, and, without it, there could be low consumption among the world's Black population of products that have been shown to improve health.
"A product relevant for this group is HIV/AIDS medication," Alsan said, citing a 2016 study that found reluctance among Black men to follow treatment protocols even after an HIV/AIDS diagnosis due to medical mistrust engendered by "HIV conspiracy beliefs."
In the context of the developing world, Alsan said, products that might be viewed with mistrust include things like insecticide-treated bed nets or chlorine to treat water.
Alsan's study adds to the growing body of literature that seeks to explain why Black men face greater health disparities, such as higher death rates from chronic conditions, including HIV/AIDS, heart disease, and cancer.
"Many factors contribute to such disparities, including lower income and education, lack of health insurance, and higher rates of disengagement from the labor force," the study states. "But socioeconomic status is not fully determinant of these gaps, and a growing body of qualitative literature suggests that mistrust of healthcare institutions partially contributes to these inequities."
More importantly, the study seeks to fill what it says is a void of empirical evidence on the "causal role of medical mistrust for racial health disparities."
For their study, Alsan and her colleague, Marianne Wanamaker, assistant professor of economics at the University of Tennessee, examined healthcare utilization and outcomes across demographic groups before and after 1972.
What they found was that the closer Black men lived to Tuskegee, Ala., the less likely they were to visit a doctor.
They also found a reduction in the probability that Black men were admitted to the hospital, but when they were admitted, they stayed longer, suggesting that their diseases were more advanced by the time they got to a hospital.
Lifespans were likely cut short as a result, the study states.
"Our results indicate that the Tuskegee study and its disclosure were substantial determinants of a life expectancy gap between older black and white men that widened between 1970 and 1980," the study states. "Our estimates imply a reduced life expectancy attributable to the study's legacy of up to 1.4 years for older black men, approximately 35 percent of the racial life expectancy gap in 1980."