NEW YORK — In a session at the National Action Network (NAN) Convention in New York, prominent Black academics discussed the importance of raising hard questions, standing firm in their beliefs and doing work useful in the struggle to overcome oppression.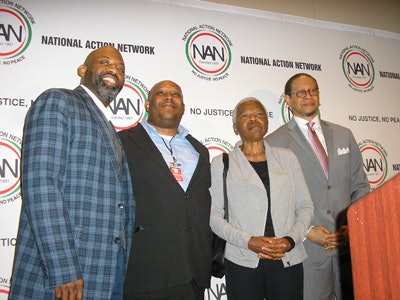 Black intellectuals have a distinct connection to activism. "The Future of Black Intellectuals" panel at the NAN Convention, moderated by Diverse: Issues in Higher Education executive editor Dr. Jamal Watson, addressed what role Black intellectuals should play in this era of President Donald Trump.
Dr. Obery Hendricks, Visiting Scholar of Religion at Columbia University, said it's important for academic intellectuals to do work that generates resources and analysis that activists can use. This involves raising hard questions and make sure issues don't get swept under the rug.
"Intellectuals have a responsibility to analyze, to represent, to embody, to articulate a message that opens up the issues," said Hendricks. "Use whatever skills and training that we have to lay the groundwork for folks to build on.
"It must be real intellectual work that is useful in the struggle," he adds. "We have to get up and tell the truth and be willing to stand on it and pay for it if we have to."
Dr. Eboni Marshall Turman, assistant professor of Theology and African American Religion at Yale University Divinity School, said one of the roles of the Black intellectual is to help the Black community remember where it has come from. The oppression and racism of today are not new.
"That will help in many ways to combat the fear and anxiety that we have around facing racism, sexism, classism and the many different kinds of injustices that are facing our community today," said Turman. "When we can tap into the strength that comes from those who may no longer be here or from the strategies that they employed, then we can find our way forward."
As a theologian, she feels a responsibility to cultivate imagination and courage in the classroom and in her intellectual work. Black intellectuals in the academy address young people and teach them how to tap into critical thinking and develop skill sets that will advance the work for social justice.
Dr. Mary Frances Berry, professor of American Social Thought and History at the University of Pennsylvania said W.E.B. Du Bois taught himself to speak to the people in language that they could understand. It's the duty of intellectuals to analyze, think and find ways to communicate.
Dr. Christopher Tinson, associate professor of Africana Studies and History at Hampshire College, said Black intellectuals must see themselves as part of history and tradition. It's important to see the relationship to people who paved the way, such as Du Bois, and to continue being torch bearers.
"It's a community mission; it's not an individual mission," said Tinson. "We're nothing as intellectuals without the communities that we serve and are a part of.
"The purpose of our work is to go beyond our classrooms. Society is our classroom."
Intellectuals cannot be stuck in ivory towers. Turman said those who succeed in the academy remain accountable to those who helped them achieve that success.
"There is no intellectual project without the raising up of the community," said Turman. "You can't separate those two."
Intellectuals must not overlook youth who were tossed aside because they didn't fit a certain mold. These are future leaders and while they may not sit in the college classrooms of the intellectuals, their presence must be felt, recognized and developed.
"Everything I am, everything I have, I have to bring to this struggle," said Hendricks. Black intellectuals cannot stand on the sidelines. They must be vigilant 24 hours a day.
"The end of intellectual projects should be to uplift the quality of the community, to accentuate the good things that we have and to lay bare the things that should not be there," said Hendricks. "Then we've made a holistic contribution using our gifts to make a difference."
Berry said it's important to listen and find ways to relate to people in diverse ways. Part of that is accurately explaining issues to journalists. It's also vital to connect and hear the needs of people in the community and publicly communicate those needs.
She is currently working on a book about resistance movements. Another thing is finding practical solutions to problems. Small things done over and over add up.
"If you have the knowledge, if you have the commitment and you're willing to put in the time and you have something to share in your knowledge, you should do that," said Berry.
The session ended with a question and answer session in which members of the audience addressed various issues and how intellectuals can help develop solutions.