The three-day closure of the federal government stirred anxieties across the country, but the timing and short duration of the shutdown protected colleges and universities from what could have been a financial disaster for students.
"Nearly every university in the United States has some money that they anticipate from the federal government," said Dr. Ivory A. Toldson, president of the higher education nonprofit Quality Education for Minorities and former head of the White House Initiative on HBCUs. "Without anyone there to process that funding, that may not be a serious situation."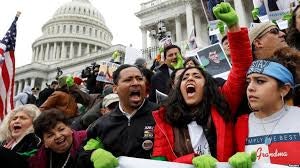 The Senate voted Monday to end the shutdown, reaching a bipartisan agreement to fund the federal government until February 8. Higher education has for now mostly dodged the shutdown's effects, according to some experts and officials.
Institutions waiting on grants from the Department of Education could have experienced delays in their processing. HBCUs and other minority-serving institutions that receive special Title III funding would have been especially at risk. The shutdown, Toldson said, could have been devastating had it occurred when students' financial-aid packages were being disbursed.
Toldson, who served in the Obama administration during the 2013 government shutdown, said it took about a month before his office had caught up on work after the 17-day furlough.
Lodriguez Murray, vice president of public policy and government affairs at the United Negro College Fund, said medical and nursing schools receiving federal funds also were vulnerable. He added that the absence of human resources at the Department of Education during a shutdown could present challenges to colleges and universities seeking guidance on how their federal grants can be used.
"Institutions that have questions on how to spend money cannot contact their officers and get their questions answered," said Murray, describing a shutdown scenario. "It may not be a big deal to many, but it is if you want to make sure the way you're spending money is accordant with the law."
With the next deadline for a permanent budget approaching in less than three weeks, some institutions might feel pressure.
"You may have a lot of people who are trying to rush and do things before the next budget expires," said Toldson. "That can leave a strain on institutions and federal workers. This isn't good for anyone."
Dr. William R. Harvey, the president of Hampton University, said the immediate consequences of the shutdown have not been felt at the Virginia HBCU. However, he is critical about what the shutdown says about the current political landscape.
"I don't think it impacts us on a day to day operation right now," he said, "but I think that the whole concept of the shutdown and the machinations surrounding it does not lend itself to stability and security."
Joseph Hong can be reached at [email protected]. You can follow him on Twitter @jjshong5.