Dr. Stanlie James began her career as an innovative scholar of Black feminism and international human rights.
Now, as the vice provost of inclusion and community engagement at Arizona State University (ASU) since 2016, she has pioneered initiatives that have attracted the attention of national organizations.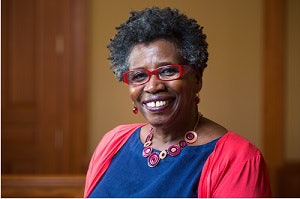 A fourth-generation Black Iowan, James recalls being one of a few Black students at the schools she attended. Longing for a more inclusive academic environment, she chose to attend Spelman College, the historically Black women's college in Atlanta, where she earned degrees in sociology and history. As an undergraduate, she expanded her horizons by studying abroad in Ghana. Years later, as a doctoral student at the University of Denver, she would write a dissertation that focused on Black feminism in Ghana.
As a professor of African-American studies at ASU's School of Social Transformation, she has taught courses in women's human rights and the history of Black women in America.
Over the past few decades, James has written comparative studies on Black feminism, female genital cutting and forms of motherhood. She prefers the phrase "female genital cutting" over "female genital mutilation" because she considers the latter to be an expression of the West's cultural condescension and hypocrisy. Only recently, she says, has the United States started addressing its own problem of surgically removing the genitals of infants born with two sex organs before the child can determine his or her own gender identity.
Within the context of motherhood, James has studied the phenomenon of "othermothering," where nonbiological mothers play nurturing roles for children in their communities. She says this form of communal motherhood was particularly important for the Little Rock Nine, the young pioneers of school desegregation.
Today, though she spends less time on research, she applies her profound understanding of oppression and inequity to her administrative work.
"I decided my charge was to figure out how to make sure that inclusion is not relegated to one office or one department but becomes the responsibility of every single person on the campus," James says. However, changing institutional culture at this scale is not an easy task for such a large university.
With nearly 60,000 undergraduates across five campuses in the Phoenix metropolitan area, ASU has been ranked by U.S. News & World Report as the most innovative school in the United States. The strides James has made in inclusivity and equity have lived up to that accolade.
She began her tenure as vice provost by revitalizing what she refers to as the once "moribund institution" of ASU's Committee for Campus Inclusion by appointing co-chairs who would oversee the programming at various campuses. Her office also supervises the ASU Martin Luther King Jr. Committee, the Faculty Women of Color Caucus and the Provost Native American Advisory Council, all of which strive to enhance the inclusivity of campus culture.
ASU has become visible in the national arena through its relationship with Excelencia in Education, an organization that works to increase Hispanic students' success across the country. According to Excelencia's data, ASU graduates the most Hispanic students in the nation. James is currently working with Excelencia to host its annual meeting at ASU in March.
"I think it's an opportunity for them to see what we're doing here at ASU," James says. "It's an opportunity to learn from the other institutions that are involved in Excelencia to enhance our own program."
James has also seen success in her push to send university deans to White men's caucuses, which are extended workshops designed to help White male administrators work better with students and colleagues from diverse backgrounds. For four days last fall, administrators from ASU engaged with questions surrounding privilege, sexism, racism, homophobia and classism in Geneva, Illinois. James says this program has inspired the participants to become fully invested in the university's equity efforts. The goal, she says, is to start a similar program on campus that would be more accessible to ASU's administrators.
"It's important that you have people working at the grassroots level, but you need to have people at the top who are working to make sure the campus is open to everyone," she says.
James's vision and her approach to equity in higher education is well known to her colleagues at ASU.
"What makes Stanlie James unique as a leader in higher education is her command of how universities work to both advance and restrain the success of students and faculty of color," says Dr. Mary Fonow, a professor of social transformation and women's studies at ASU. "She articulates a vision of inclusion that makes you believe it can happen."
James attends each of the convocation ceremonies for campus affinity groups, including those for Black and African students, LGBT students and Native American students. She says the most rewarding part of her work is celebrating these students' accomplishments with their parents. For James, student success is the ultimate goal of creating a culture of inclusion on campus.
"ASU is a university that wants to be known for whom it includes rather than whom it excludes," she says. "We don't want to be a university just known for academics but one that's known for accepting students from all walks of life."