How to quantify equity and better advocate for oneself, were but two of the topics discussed during the second day of American University's (AU) annual School of Education Summer Institute on Education Equity and Justice (SIEEJ).
This year, the three-day event – Jun. 28 to 30 – centered around the theme, "Leveling the Playing Field: Intersecting Race and Disabilities."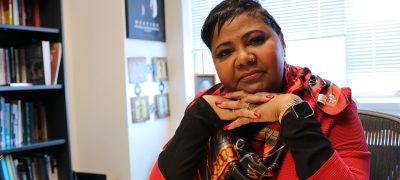 Day two featured the likes of – among others – James Rutenbeck, director of the documentary, "A Reckoning in Boston"; Kafi Dixon, producer of "A Reckoning in Boston" and founder of Common Good Co-op; and Dr. Donna Y. Ford, distinguished professor in The Ohio State University's College of Education and Human Ecology.
In her keynote address, "Beyond Lip Service: What True Equity Looks Like in Gifted Education for Black and Hispanic Students," Ford highlighted the unevenness in the number of students in U.S. public schools compared with how many of those students were in gifted and talented education (GATE) programs.
Black students make up 19% of U.S. public schools but just 10% of GATE, she said.
"When you take these percentages and give them numbers, you will see that over 250,000 Black students are not being identified as gifted each year," Ford said. Similarly, Hispanic students comprised 26% of the student population but only 16% of GATE.
"So combined, we're talking about half a million Black and Brown students not being identified as gifted," Ford said. "And some of that is intentional, meaning explicit racism is taking place, and some of it is unintentional, meaning implicit racism is taking place."
To address this underrepresentation, Ford demonstrated a way to numerically assess whether inequity and discrimination in schools were present. She calls it the Equity Allowance Formula.
Ford also cited under-referrals from teachers as the number one reason Black students are underrepresented in GATE.
Another panel – one moderated by journalist and professor Dr. Jamal Watson – addressed how college students could better advocate for themselves as they navigate through higher education.
One panelist, Roderick Hart III from Morehouse College, stressed the importance of faculty support.
"I think that often times when there's interactions between students and administration, especially like say, students who bring a petition for or asking for improvements or changes on campus, at least in my experience, administration doesn't really take you seriously unless you come with a full presentation and you come with notes and statistics and just the whole nine yards," Hart said. "And I think that in doing that, in approaching administration, obviously having your dots crossed makes the most sense, but also ensuring that you have faculty support when you take that petition up or you take this proposal up to administration, ensuring that faculty can be advocates for you in the room or when they're in the room with people that are above them, I think gives that more validity and allows for more students to be able to express themselves."
Another panelist noted that it was important for students to surround themselves with like-minded individuals.
"Be very mindful and careful of the company that you surround yourself with in college," said Tammy Nguyen, who recently graduated from American University. "I think it's just so important to be around people who have similar values as you, who maybe want the same thing out of life as you."
Arrman Kyaw can be reached at akyaw@diverseeducation.com.