Over the weekend, President Joe Biden and Vice President Kamala Harris honored the Congressional Black Caucus (CBC) and the Congressional Black Caucus Foundation (CBCF) for their efforts in upholding democracy and guiding progress for Black Americans.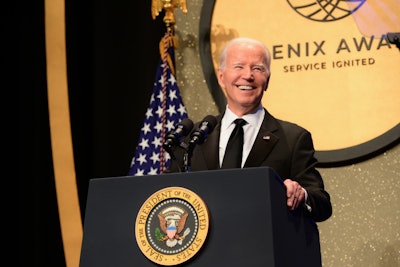 "Democracy was at stake in 2020," Biden said, "and thank God, because of you, we won."
At the Phoenix Awards during the CBCF Annual Legislative Conference, the duo thanked the groups and said that such efforts are more important than ever in a pivotal upcoming election year.
"I wish I can say the threat to our democracy ended with our victory in 2020, but it didn't," Biden said. "Our democracy is still at stake, don't kid yourself."
Harris said that there was currently a nationwide attack on the freedoms that the CBC has fought for and won.
"Political violence in America is never, never, never acceptable in our democracy," Biden said.
The winners of the Phoenix Awards, commended for being leaders and trailblazers for the Black community, were: White House Press Secretary Karine Jean-Pierre; Mayor of Los Angeles Karen Bass; House Minority Leader Rep. Hakeem Jeffries (D-NY-8); Tennessee State Rep. Justin Jones (D-TN-52); and rappers MC Lyte and LL Cool J.
CBCF President and CEO Nicole Austin-Hillery said the organization has employed tactics such as education and investment to address social justice and public policy issues and stressed the importance of continuing their scholarship and internship programs for young people.
"The power of the Black community in America today is evident. And I don't just mean our political power, but power in every aspect of American life – in our neighborhoods, in business, in media, in the arts and entertainment, in health and science and so many other areas," said Congressional Black Caucus Chair Rep. Steven Horsford (D-NV), adding that this year's 58-member caucus was the largest yet. "We've staked our claim to being a powerful force – potentially the most powerful – in our Nation, and we mean to use that power for the good of our people."