Valerie Boyd—a well-known journalist, biographer and professor at the University of Georgia—died over the weekend. She was 58 years old.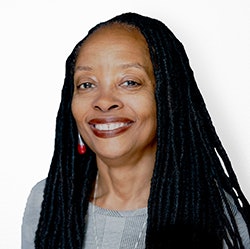 The author of Wrapped in Rainbows: The Life of Zora Neale Hurston, Boyd was an associate professor of journalism and the Charlayne Hunter-Gault Distinguished Writer in Residence at the Grady College of Journalism and Mass Communication at the University of Georgia.
"Valerie Boyd's towering prose, gentle spirit and moral compass will be greatly missed by all of us," said Charles N. Davis, dean of Grady College. "She possessed a rare combination of gift and grit, a colleague who, once she set to a task, never let go. Her work with our MFA program set the course for what has become a family of writers – a family that grieves today, but also celebrates what she helped to build.
A former arts editor for the Atlanta Journal-Constitution, Boyd spent the last several years curating and editing the journals of Pulitzer Prize-winning novelist Alice Walker. Gathering Blossoms Under Fire: The Journals of Alice Walker is scheduled to be published this spring.