This year's Race & Justice Imperative—a series of conversations with Black political leaders put on by the DC-based newspaper The Hill—came at an auspicious moment for Black power. More Black Americans were elected in 2022 than ever before, and the Congressional Black Caucus now boasts 57 members, a record. But the overwhelming consensus from the people who spoke, a mixture of Congresspeople, academics, and advocates, was that representation is not enough. It is crucial, they said, to keep up the momentum, even when an election isn't right around the corner.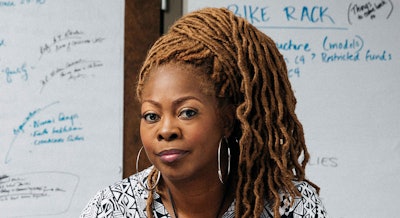 That ethos was perhaps best embodied by LaTosha Brown and Cliff Albright, co-founders of the Black Voters Matter Fund. When asked how they were organizing for 2024, they described themselves as already hard at work.
"There's no such thing as an off year," said Brown. "It is going to take us literally being relentless."
Brown and Albright described the waves of voter suppression bills that they said have been introduced in 49 states and passed in 20 as important threats to counter—Albright described them as a "slow-motion insurrection." They said that the bills were a response to Black strength at the polls.
DaMareo Cooper, co-executive director of the Center for Popular Democracy, agreed. He compared the current political climate to the backlash that occurred in the second half of the 1800s when the newly won right of African Americans to vote was made subject to various unfair limitations in an attempt to suppress the group's newfound political power. He also agreed that mere representation was not enough.
"It's good that we're getting people into positions at higher levels of government," he said. "But the policies that get created [are] also critical."
The nature of what these policies could be was discussed by Alicia Garza, principal of the Black Futures Lab and co-founder of the Black Lives Matter Global Network. One of the Black Futures Lab's projects is the Black Census, which she described as the largest survey of Blacks in 158 years. She said that for many of its respondents, it was the first time they had been asked what policies they wanted to see enacted.
According to Garza, the Census's findings paint a very different picture of Blacks than the one that she says was publicized during the 2022 midterm elections, when Blacks were often portrayed as highly concerned about crime, which led to overly punitive public policy. Garza said that the survey showed that Blacks were actually predominantly concerned about the economy, then white nationalism, then voting rights, and then abortion rights. When the full Census is finished, Garza's group plans to release a Black Agenda legislative road map that will impact policy. And although she's happy to see more Black people in political roles, she said that it was important that they serve the actual agendas of Black people.
Another area where policy is being highly contested is education, particularly in Florida, where Governor Ron DeSantis has cracked down on Critical Race Theory, DEI positions at universities, and the College Board's proposed curriculum for an Advanced Placement African American Studies class. Adriane Shropshire, executive director of BlackPAC, traced the fights back to Glenn Youngkin's 2021 campaign for the governorship of Virginia and argued that the damage is deeper than ignorance—it deprives younger people of a chance to develop empathy—empathy that will surely be necessary for the cause of racial justice to advance.
Dr. Darrick Hamilton, Henry Cohen Professor of Economics and Urban Policy at the New School and founding director of the Institute for the Study of Race, Power and Political Economy discussed economic plans that could help close the racial wealth gap. He emphasized that no one plan was a silver bullet, but that a combination of forward-looking policies, like baby bonds, which would give newborns a nest egg that they could later use to pay for college, purchase a home, or start a business, and backward-looking policies, like reparations, could make a difference.
Ultimately, however, the speakers emphasized that without continued energy and involvement, little progress is likely to be made, even with more Black representatives than ever.
"We do a disservice," said Shropshire, "by focusing on Election Day as if it's the only day when democracy happens."
Jon Edelman can be reached at JEdelman@DiverseEducation.com.