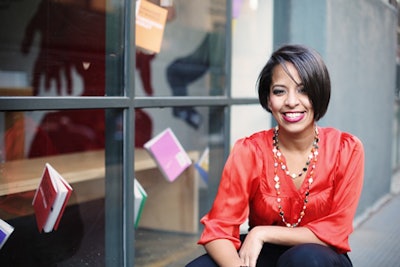 Dr. Soribel Genao's upbringing in the Lower East Side not only gave the Dominican and Haitian American an impetus to attain a higher education, but it also inspired her to study education policy and its effects on mostly Latino and Black communities.
"The school I attended on the Lower East Side was one of the worst-performing schools and was known as a dropout factory," recalls the now assistant professor of Educational and Community Programs at the City University of New York's Queens College. Genao notes that there was one particular teacher who helped her see her potential — Ms. Irene Moore.
"When I was in high school, Ms. Irene Moore cared so much about the students," says Genao. "She walked around to classrooms asking if they wanted to do internships and was a very caring teacher."
Genao's life changed sophomore year of high school after Moore enlisted students for an internship at Oppenheimer Funds by the World Trade Center.
"This program did not just offer us knowledge on an economic base, but it showed us the importance of college and how important it is to not just get a job but have a career," says Genao. "It was definitely an eye-opening experience for me. I don't know what would have happened if that teacher or program hadn't stepped in."
"Growing up in the community that I did, I am not the norm," adds Genao. "The majority of the students that I went to high school with did not go to college."
For Genao, knowing that there were people who believed in her capabilities and wanted to make an investment in her made a difference. Though she went on to earn a degree in mass communications at the private college St. John's University in New York City, Genao developed an interest in education policy during her undergraduate years. Two of her good friends were education majors, and Genao assisted with their schoolwork and did projects with them.
"I was so integrated [by the courses and the work] and involved in it that [my friends] just kept asking, 'Why don't you just switch over to education?'" But Genao was hesitant. "I didn't want to go into teaching because I kept saying, 'I want to be able to have a job where I can travel, get to know the world and do what I love at the same time.'"
It wasn't until Genao was in the middle of her master's program in urban affairs at Hunter College CUNY that it became clear what she wanted to do with her career.
"Everything that had to do with how policy affects education was extremely interesting to me," says Genao, who, at the time, was working at a nonprofit, Wildcat Service Corporation, which provides job opportunities and resources to New Yorkers. "It was at the nonprofit that I realized there was a constant need for evaluation and assessment."
Dr. Peter Kwong, one of Genoa's professors at Hunter College, says that, when she first arrived, Genao was not a confident student, but, since then, she has flourished and grown leaps and bounds as an academic.
"(When) she (first) came to Hunter urban affairs as a graduate student … she was quite hesitant," recalls Kwong. "No one in her family had gotten as far as she had, so she was still questioning herself."
Still, her upbringing had a dual effect in that it also served as a motivator.
"I think that her drive and motivation is very social minded," notes Kwong. "She focuses (her research) on how to get quality education to people who are disadvantaged very early on."
Dr. Laxmi Ramasubramanian, one of Genao's professors at Hunter, encouraged her to go for a doctorate. At Rutgers University-Newark, Genao earned a Ph.D. in public administration, eventually starting in an associate research position at Newark Public Schools gathering and analyzing data.
"It was there that I was able to see where students and families had access to information or not, (and) I was also able to see the implications administrators had on the teachers and vice versa," Genao says.
A mentor at Rutgers, Dr. Evan Stark, urged Genao to take on her research on public schools as an academic, prompting her to go for a position at Queens College.
"I have loved every second of it since then," says Genao. High school dropout rates, school collaborations and diversity issues in education are just a few of the topics Genao's work, which has been published in the Journal of Education and Urban Society and the International Journal of Educational Management, has delved into.
"I hope to be part of a bigger conversation and group willing to lead the discussions that are not as transparent to the parents and students in these (poor Black and Latino) communities," says Genao.