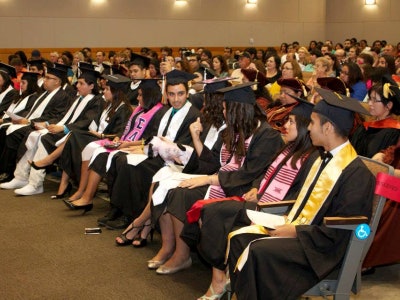 Five majority research institutions and three Hispanic-serving institutions (HSIs) are teaming up to help increase the number of Latino professors at colleges and universities across the nation.
Pathways to the Professoriate is a new initiative that is being launched by the University of Pennsylvania's Center for Minority Serving Institutions (CMSI) thanks to a $5.1 million grant from the Andrew W. Mellon Foundation.
The initiative comes amid ongoing national efforts to figure out how to increase the number of Latino professors in the classroom. Although Latinos between the ages of 18 and 44 make up 20 percent of the population, they are only 4.1 percent of the overall professoriate in the United States.
"This is not a problem that can be fixed overnight," says Dr. Marybeth Gasman, director of CMSI.
"We see this program as a way to begin a fundamental change. We hope this creates a strong pathway to graduate school for Latino students that will grow over time, with these students supporting one another and one day becoming mentors themselves."
According to Gasman, CMSI will partner with three HSIs — Florida International University; the University of Texas at El Paso; and California State University, Northridge — and five majority institutions — New York University; the University of California, Berkeley; the University of Pennsylvania; Northwestern University; and the University of California, Davis.
Over the five-year program, about 90 HSI undergraduate students will participate in summer research programs, conferences and receive mentorship as they apply to and enroll in graduate school.
"We are going to provide wraparound support," says Gasman, who adds that participants will be selected by the HSIs and will be encouraged to apply to a minimum of eight doctoral programs. "We are going to create a seamless pathway to the professoriate."
Experts say that focusing on Hispanic-serving institutions make sense, since more than 50 percent of Latinos in college are enrolled at a HSIs.
The number of colleges and universities identified as HSIs rose 7 percent in the 2014-15 academic year as compared to the previous year, according to recently released annual analysis conducted by Excelencia in Education, a Washington, D.C.-based organization which focuses on accelerating higher education success for Latino students.
The report found that HSIs enrolled 62 percent of all Latino undergraduates in the United States and that these institutions are concentrated regionally as more than two-thirds of all HSIs are in California, Texas or Puerto Rico.
"HSI-PATHWAYS aligns well with institutional goals and strategies well underway at Northwestern," says Dr. Daniel Linzer, provost of Northwestern University. "We appreciate the opportunity to join in this important work and are committed to continuing to enhance our effort toward creating a more diverse and inclusive Northwestern."
Nationally, the number of graduate students identifying as Hispanic increased from 248 to 660 between 2004 and 2013. According to Linzer, more than 16 percent of this fall's entering Ph.D. cohort in The Graduate School at Northwestern were underrepresented minority students.
"We feel we represent the future of what academia could look like," says Dr. Elizabeth Bejar, vice president for academic affairs at Florida International University. "We know we have students here who have the quality and caliber to be Ph.D. students at nationally renowned universities. Pathways to the Professoriate will give these students needed support to make sure that can happen."
Jamal Eric Watson can be reached at [email protected]. You can follow him on Twitter @jamalericwatson.