Latinos have been making gains across higher education, but it is time to start accelerating that progress, according to Deborah Santiago, co-founder, CEO and vice president for policy at Excelencia in Education, a Washington D.C.-based organization that seeks to advance Latino success in postsecondary education.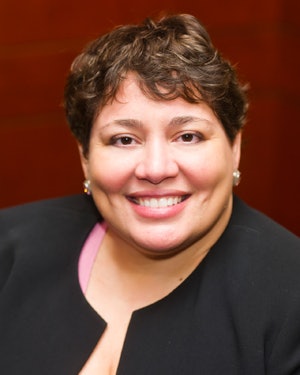 "We want all students to increase their achievement regardless of their background, but the only way you're going to close achievement gaps is if you accelerate the success of students who have historically been underrepresented," Santiago said.
Excelencia convened higher education and nonprofit leaders in Washington, D.C. late last week to celebrate programs and institutions that are doing particularly outstanding work advancing Latino student success at all levels of the educational pathway, from K-12 to graduate school.
Since 2011, Excelencia has recognized institutions and programs that demonstrate particular success addressing a range of challenges that Latino students might encounter as they progress through school as "Examples of Excelencia."
"Every year it's great to celebrate programs and practices across the country that have shown evidence of really serving Latino students," Santiago said.
At the Celebracion de Excelencia, held at the Mayflower Hotel last Thursday night, four programs were recognized as the 2017 Examples of Excelencia, along with 19 finalists. The Accelerated Study in Associate Programs (ASAP) at Bronx Community College; the bachelor's of applied science in organizational leadership at South Texas College; the Preparing Undergraduates through Mentoring towards PhDs (PUMP) at California State University, Northridge; and Waukegan to College, a community-based organized based in Waukegan, Illinois, were recognized as the 2017 Examples of Excelencia.
According to recent research from the Pew Research Center, 3.6 million Hispanic students were enrolled in private and public college in 2016, a historic high for the U.S. That is compared to the 1.3 million who were enrolled in college in 1999. However, prior Pew research shows that in 2014, only 15 percent of Hispanics aged 24 to 29 held a baccalaureate degree, compared to 22 percent of Blacks, 41 percent of whites, and 63 percent of Asians.
Examples of Excelencia celebrates successful educational programs and the achievements of thousands of students across the United States. These and other successes counteract what Dr. Isis Artze-Vega, assistant vice president of teaching and learning at Florida International University, referred to as a "deficit" mindset in a Friday panel at the Accelerating Latino Student Success (ALASS) Institute.
"I think Latino students deserve validation for all of the assets that they bring to our institutions," Artze-Vega said. "I think that we will never get rid of deficit model thinking and discourse, unless we counter with asset-based discourse and thinking in a very explicit way."
Improving access to and success in postsecondary education among Latinos also has significant implications for the workforce. Immigration is projected to drive future growth in the working population in the U.S. for the next decade and beyond, according to a 2017 Pew Research Center report.
While the growth rate of the working age population is expected to decline overall, the number of working age immigrants and children born in the U.S. to immigrant parents is expected to grow. The number of workers born in the US to American parents is expected to shrink from 128.3 million to 120.1 million between 2015 and 2035.
Ignoring the potential economic power of the nation's growing Latino and immigrant population only risks the future viability of the American labor force, according to Dr. William Serrata, president of El Paso Community College. "We have to increase the educational attainment level of this particular population," Serrata said at a Friday panel. Studies indicate that in the decades ahead workers will need at least some postsecondary education, Serrata added, not necessarily a bachelor's or associate's degree but some form of certificate or credential in order to earn a living wage.
"We know given the youth and growth of the population so much of workforce is going to require that we educate our Latino population," Santiago said. "You can't get away from it. Our workforce success is going to be dictated by what we can do for Latinos in education. If you think about it, one out of every two people paying into Social Security in the next 15 years is going to be Black or brown. So investing in them now is going to be helpful for those relying on Social Security in the future."
Staff writer Catherine Morris can be reached at cmorris@diverseeducation.com.