Metropolitan State University (MSU) Denver has recently earned Hispanic-serving institution (HSI) status.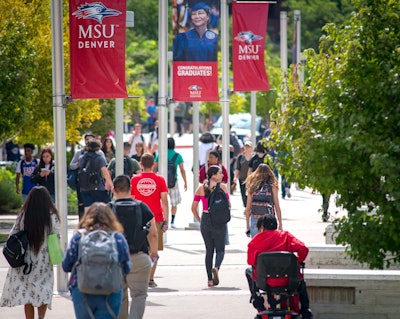 This new designation provides MSU Denver with access to grant funding opportunities and upholds the university's decade-long effort to better reflect and serve Colorado.
MSU Denver administrators received a letter from the U.S. Department of Education in February confirming that the school fulfilled the criteria needed to achieve HIS status, according to MSU Denver RED.
"Becoming an HSI-designated University positions MSU Denver to provide the highest possible quality of education to Hispanic-identifying students and all students," said president Dr. Janine Davidson. "I commend every single faculty and staff member who has contributed to this process – especially my predecessor, president Stephen Jordan, and I look forward to the new opportunities this designation will create for all Roadrunners."
In 2007, then-MSU Denver president Jordan launched a HSI task force with the goal of increasing the recruitment and retention of Latino students and becoming an HSI by fall 2018. Over the course of those 10 years, the population of Latino students enrolled at MSU Denver practically doubled in size from 2,877 in 2008.
"Achieving HSI designation feels amazing, especially considering all the people and work that has been done to get us here," said Dr. Angela Marquez, special assistant to the president for HSI. "To my knowledge, most institutions achieve status essentially by default, but our journey was very intentional and strategic."