Editor's Note: Diverse: Issues In Higher Education

and

Excelencia

in Education have partnered to exclusively release names of the institutions that have earned the 2020 Seal of

Excelencia,

a national certification that confirms an institution goes beyond enrollment to intentionally serve Latino students. The following school, University of Texas at Austin, is one of five institutions that earned the 2020 Seal of Excelencia. To learn more about the seal, visit https://www.edexcelencia.org/seal-excelencia-framework.
She had been forewarned of what a Brown girl from a Rio Grande Valley farming town might encounter at a big, majority-White university.
"When my tío starting teaching at Texas Tech," began Vallery Valle, summoning what her uncle had relayed, "he walked in, his first day on the job, and the lady at the front desk asked him if he could clean the toilets."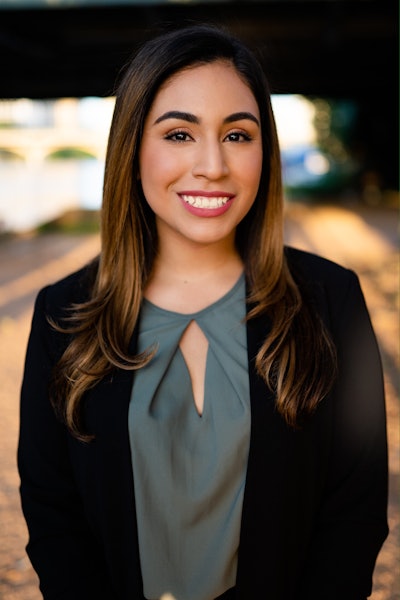 Her uncle politely said he was not a custodian and kept it moving, said Valle, whose relative now is an interim department chair in Texas Tech's College of Education.
At the University of Texas at Austin, (UT-Austin) where Valle is a senior communications major, she had also been mistaken for someone else. "Like, when I was working the front desk at my dormitory, a girl would come up and say, 'My dishwasher's broke. Fix it.' I'd say, 'Excuse me, I live here just like you do. I'm not supposed to fix anything,'" recalls Valle.
That's a critical detail of Valle's college experience and, by extension, those of other Hispanic students at UT-Austin. It's among the details she's laid out for members of that flagship campus' Subcommittee on Latinx Recruitment and Retention — Valle serves as its student representative.
The subcommittee's work is one aspect of an expansive, years-long effort that's resulted in UT being among the schools earning a "Seal of Excelencia" from Excelencia in Education, a Washington, D.C.-based nonprofit singularly aiming to ensure that more Latinx students enter and exit college successfully.
"What stands out is that their intentionality is clear," says Deborah Santiago, co-founder and CEO of Excelencia in Education, of UT-Austin. "The sense of belonging they seek to create for their students is clear. … They are being very proactive in making sure students have support services and connections to human beings who can be a real resource."
A former congressional research analyst and deputy director of then-President Clinton's White House Initiative on Educational Excellence for Hispanic Americans, Santiago said Excelencia, founded in 2004, provides technical assistance to colleges and universities intentional about ensuring that Latinx students succeed from day one of freshman year through graduation.
Colleges applying for Excelencia's seal must provide data-driven evidence that they are strategically enrolling, retaining and graduating Latinx collegians; ensure that those students have adequate financial support; hire enough Latinx administrators, faculty and staff; and so forth. Based on their institutional culture and mission, employee recruitment and professional development and other defining factors, the 14 colleges, thus far, with Excelencia's seal have made plain their resolve to give Latinx students an optimal, equitable chance at succeeding.
"The university started very deliberately focusing on [Latinx] graduation outcomes about seven years ago," said Rachelle Hernandez, UT-Austin's senior vice provost for enrollment management and student success. "Also, we've really focused on recruitment and access for high-achieving students from across the state. It's really been a momentum-building effort. As a campus, we are committed."
Marks of excellence
UT's Austin campus, with its 40,000 undergraduate students, is among six Texas institutions certified by Excelencia. (The other Texas institutions that have been granted the Seal of Excelencia are the Austin Community College District, El Paso Community College, South Texas College, UT-El Paso and UT-San Antonio.)
To earn its seal, UT-Austin, among other achievements, saw its: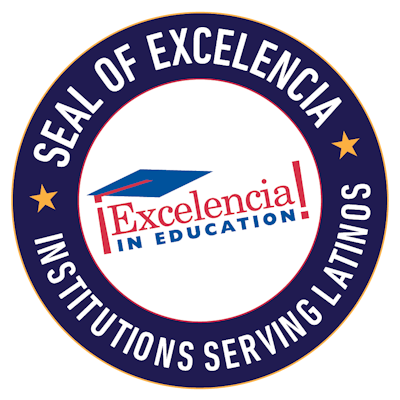 Latinx freshmen enrollment spike 2.3% between 2015-16 and 2019-20, when that group numbered 9,800.

enrollment of Latinx freshmen in the McCombs School of Business increase to 22.1% in fall 2019 from 17.5% in fall 2015. Overall, Latinx students accounted for 18.1% of McCombs' Bachelor of Business Administration students in 2019-20, which was up from 14.5% in 2015-16.

enrollment of Latinx freshmen in the Cockrell School of Engineering rise to 20.3% in fall 2019 from 16.7% in fall 2015.

number of full-time Latinx faculty members increase 1.3% between 2015 and 2020, when they accounted for 8.6% — or 321 — of 3,722 full-timers.

six-year graduation rate for Latinx students — as measured by the 2013 freshmen class — rise 9.5% in 2019. That compared to 6% for all students (though 79.2% of Latinx and 85.6% of all the 2013 cohort graduated after six years.)
In addition, the university expanded its career-readiness services and its financial aid resources for lower-income students; created the Latina/x and Indigenous Leadership Institute to develop leaders, fortify connections among and empower that group of students; and established a pipeline of potential Latinx applicants and enrollees that rests, in part, on introducing those prospects to UT as early as their first year of high school.
On other fronts, UT's efforts to boost enrollment of Latinx people — a group underrepresented in the STEM fields — have included launching the week-long residential boot camp for high school students interested in computer science. Similarly, it kicked off an Equal Opportunity in Engineering Student Program for 9th- through 12th-graders who spend five days immersed with that discipline's students, faculty and alumni. Since 2015, three residential programs of The McCombs School of Business, including Subiendo: The Academy for Rising Leaders, have enrolled almost 700 students.
Not least among those innovations was the decision to name a diversity officer for each of UT's 13 colleges and schools, which collectively offer more than 170 fields of study.
That's a major move for a university that is not a federally designated Hispanic-Serving Institution, where 25% of undergrads are Latinx, says Dr. Deborah Parra-Medina, inaugural director of UT's 4-year-old Latino Research Institute.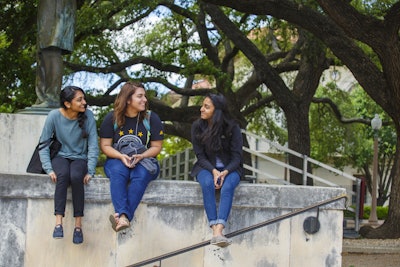 "We are being intentional and purposeful. We see who makes up our state's population and how that's changing. As a flagship university that's training the best and brightest … our future leaders, we know that a substantial proportion of those are going to be Hispanic students," says Parra-Medina, who co-chairs UT-Austin's 4-year-old Council for Racial and Ethnic Equity and Diversity. "We want all students to be performing at the highest level. When [Latinx] students, perhaps, are not achieving the same outcomes as other students, we have to reflect and see why. What are we doing? Where are the gaps?"
Since joining the faculty at UT-Austin, Parra-Medina, who started her fifth academic year there this fall, says she's noticed a shift. In addition to those diversity officers, for example, the university elevated Mexican American and Latina/o Studies from a mere academic program to an academic department, with a higher profile, more resources and tenured professors.
Those are starting places, not end points. In 2019, using 2017 data, Latinx faculty issued a Hispanic Equity Report citing that just 7% of UT-Austin's tenured or tenure-track faculty were Latinx, while more than 21% of its students and more than 39% of Texas residents were Hispanic. In addition, full-time Hispanic professors were paid, on average, $25,000 less than White professors.
A unique challenge for Latinx faculty
Latinx and other faculty of color still confront a "cultural taxation," investing substantial amounts of time into nurturing students of color and helping them navigate an institution where many, too often, still feel like outsiders, Parra-Medina says. Those labors take considerable time away from the research expected of scholars — merit pay and tenure often are based on such research. Those labors, too, must be rewarded, yet such labors should be shared among all faculty, not just those of color, Parra-Medina adds.
"There is still a lot of work to do," says Parra-Medina, adding that she's delighted by what UT has done to earn Excelencia's Seal of Excelencia.
Dr. Luis Zayas, dean of UT Austin's Steve Hicks School of Social Work, shares that resolve and excitement, saying, "We're approaching more of what our whole society actually looks like. And that's good for all the students."
Santiago says the seal and all that's behind it aims to be a good thing. "There are examples all over this country of people at universities who do well and right, and are trying to help these students thrive," she says. "So, we focus on the positive of all this. This crisis narrative is not motivational; it's blaming. Let's create a framework and structure and codify that and set expectations."
Valle, a UT Austin Archer Fellow interning during fall 2020 in Texas U.S. Rep. Veronica Escobar's Washington office, says she's humbled to have some small hand in her college's work on the diversity front. She appreciates what UT is doing to amplify Latinx voices. She's bent on telling other Latinx students what's possible for them on a campus with such a large imprint, not only in Texas, but around the nation and the world.
She recalls what she told a recent freshman, from a hardscrabble El Paso neighborhood, whose dad's car had broken down on the side of the highway at the start of the semester.
"Her mother had to drop her off and run back to help her father. So, she was there, on campus, all alone," recalled Valle. "I told her, 'You belong here. This is no easy feat. But you're Latino. You're gonna rock UT.'
"She's first-generation, like me. … What I know is that when you see someone else doing it, you know that you can do it, too."
This article originally appeared in the October 1, 2020 edition of Diverse. You can find it here.