Education leaders from UnidosUS, LULAC, The Education Trust, Teach Plus, ALAS, Khan Academy and Leadership for Educational Equity convened virtually this week to discuss how COVID-19 has impacted Latinx students in K–12 and strategize on outcomes so that unfinished learning doesn't impact these students for a lifetime.
During the panel discussion titled, "The State of Hispanic Education: The Impact of COVID-19 on Students and Families," Dr. Maria Armstrong, executive director of ALAS, said the pandemic has brought to light many of the issues that have plagued the educational system for quite some time.
"Take a look at how we can perhaps craft policy and really start to create some promising practice to be able use this situation we have been dealing with to come out stronger and better in the end," she said.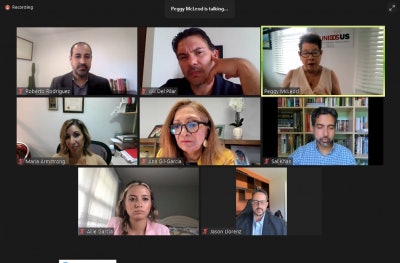 Key issues throughout the panel discussion were lack of access to high-speed internet, learning loss, lack of representation in the teaching profession (only 9% of teachers are Latinx), changing the deficit mindset to an asset mindset, need for investment in K–12 education, cultural competence and the need to forge a greater connection between families and the education system.
Roberto Rodriguez, president and CEO of Teach Plus, said it is time to bridge the opportunity and achievement gaps in the system.
"As our fastest growing population in our schools, we know that the pandemic has had an even greater impact disproportionately on our Latino families," he said. "Part of our education response here has to be thinking about how we double down on the stability and the success of our families and provide our Latino students the resources that they need to be able to succeed."
Dr. Peggy McLeod, deputy vice president of UnidosUS, said it became evident that students suffering most greatly during the pandemic were those with parents who did not speak English.
"Schools did not shift very quickly. They continued to send materials in English to parents who could not understand them," she said. "We created material to support those parents who were having difficulty connecting with schools. The idea was to foster a close connection between schools and parents and support their understanding to this rapid shift to online learning."
While the American Rescue Plan (ARP) provides funds to reopen schools, McLeod said ARP funds should go toward also meaningfully engaging families and accelerating students' learning, particularly for English learners, either through tutoring or expanded learning time. The emphasis on expanded learning time was repeated by most of the panelists.
Sal Khan of Khan Academy noted, "The silver lining is there's never been more energy than there is right now to fix the problem, and it has huge implications post-pandemic," he said.
Dr. Ana Gil-Garcia of LULAC's (League of United Latin American Citizens) national education committee, said LULAC also has a higher education task force, which was appointed to conduct research to address inequities in faculty. The task force is now proposing policies for faculty recruitment, promotion and retention.
For K–12, extended learning time is critical to address learning loss suffered by students over the past year, she said. This would include extending both the school day and the school year.
"We're talking about instructional time," said Gil-Garcia. "We cannot forget that our kids are between six and 12 months behind."
Dr. Wil Del Pilar, vice president for higher education policy, practice and research at The Education Trust, said some students have an entire school year of unfinished learning. He noted that while the ARP allocates funds to support K–12 education, it explicitly requires states and districts to set aside funding to address unfinished learning for students most affected by COVID-19.
"States and district leaders need to focus on how to best leverage the billions of dollars in stimulus on research-driven strategies to get students to reach grade level standards after more than a year of interrupted learning," said Del Pilar. "Research supports two ways that schools can give students opportunities and the support they need to complete unfinished learning.
"First is targeted, intensive tutoring," he continued. "It's effective for all students, but younger students benefit the most. Expanded learning time is critical. We know that increasing the number of hours of instruction students receive during the school day can be effective for all age groups, all active students and across all subject matter. These interventions only work if we build our relationships."
Del Pilar and other panelists emphasized the importance of relationships—both with the students and their families.
"Without strong relationships and connections between students and school staff, educators are going to struggle to catch students up," said Del Pilar.
Rodriguez said there are opportunities with ARP to build systems anew and address long-time systemic barriers.
"Creating new opportunities for deeper family engagement and family involvement in education," he said. "We need to redesign our schools and rethink our approaches to how we engage our families and send them every message that who they are is an asset.
"The language that they bring, the culture that they bring…is an asset," he added. "We have some shifts we've been slow to make in education that I'm hoping the pandemic can help us to begin to accelerate a bit more."